Featured Documents of the Month from the National Archives at Boston
Appointment of Daniel Gallushee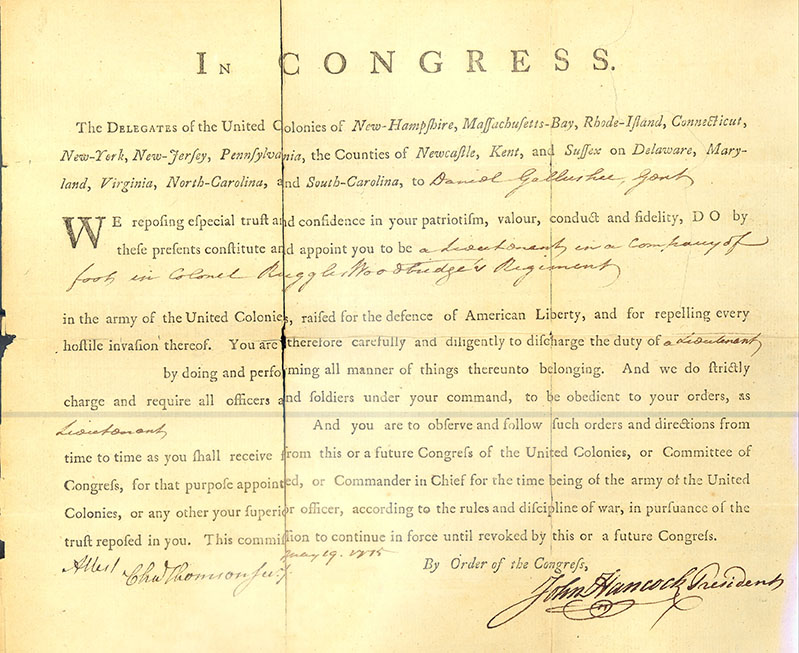 Appointment of Daniel Gallushee to be a lieutenant in a company of foot in Colonel Ruggles Woodbridge's Regiment in the army of the United Colonies, raised for the defence of American Liberty, and for repelling every hostile invasion thereof. This military commission was signed by Hancock as Continental Congress President on May 19, 1775, one month after the Lexington alarm.
Daniel Gallushee, also spelled Gallusha and Gallucia, was born in 1742. Married 4 times, his last child was born when he was 77. He would die in 1825 at 83. He was in the army for 8 months, serving at the Battle of Bunker Hill only one month after his commission.
John Hancock was a prominent Colonial Boston merchant and patriot, President of the Second Continental Congress, first signer of the Declaration of Independence, and later the 1st and 3rd Governor of the Commonwealth of Massachusetts.
Citation: Military Commission, May 19, 1775. RG 21 USDC-MA Case Files, 1790-1917; National Archives at Boston.