Featured Documents of the Month from NARA at Boston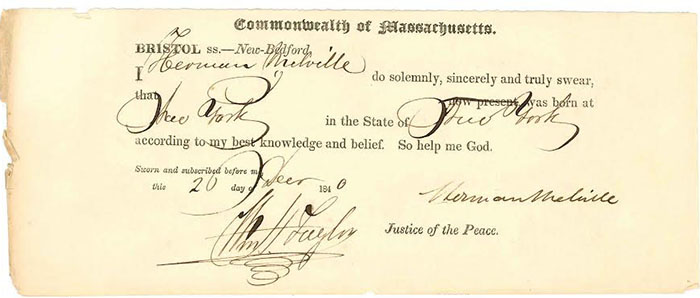 "I try all things, I achieve what I can."
-- Herman Melville, Moby-Dick; or, The Whale

Seamen's protection certificates, authorized by Congress in 1796, were required for crewmembers of U.S. ships and used to identify merchant seamen as citizens in order to provide protection from impressment. All applications were witnessed by someone who swore to the information provided.

This proof of citizenship for a young Herman Melville of Dec. 20, 1840 is also witnessed by himself! Just a few days later, on January 3, 1841, Melville embarked from Fairhaven, MA, aboard the whaler Acushnet, bound for the Pacific. He would desert the Acushnet in the Marquesas Islands in July 1842. A great body of his writing was inspired by his experiences at sea. Melville is best remembered for the great novel Moby Dick; or, The Whale (1851).

Seamen's Proof of Citizenship, Herman Melville, 20 Dec 1841; RG 36 Records of the US Customs Service; National Archives at Boston.