Featured Documents of the Month from NARA at Boston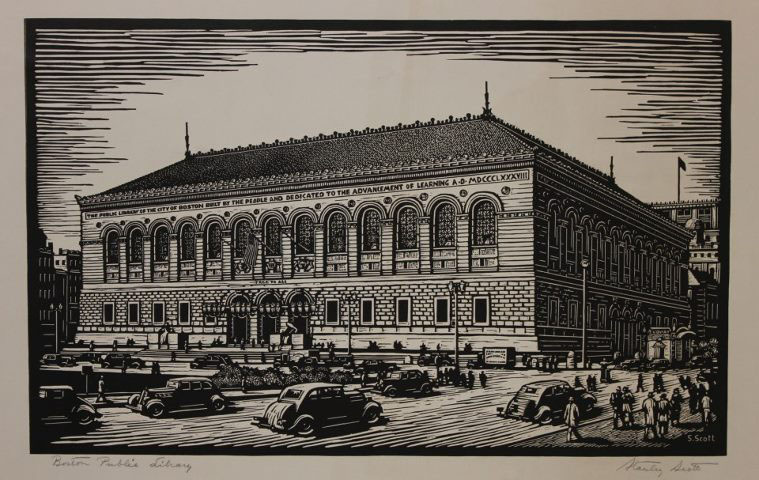 Boston Strong
The Works Projects (also Progress) Administration put millions of unemployed Americans to work in public works projects during the Great Depression. The records are held in the National Archives.
They reveal fascinating stories about local history: the building of the school cafeteria, curb cuts, road improvements . . . and public art. Local WPA projects become recognizable connections between past and present, the efforts of the past continuing to benefit us today. Like a scavenger hunt, one can go about town finding evidence of the WPA still here after all these years!
Among the records held at the National Archives at Boston in Waltham, MA, are large linocuts created by an artist named Stanley Scott in the 1930s. Little is known about the artist; however his beautiful, dramatic prints of Boston's landmarks include Old North Church, Faneuil Hall, and the Boston Public Library.
Eighty years after its creation, this print remains vital and current. Other than the outdated automobiles or clothing, the Boston Public Library looks just like this today.
Founded in 1848, by an act of the Great and General Court of Massachusetts, the Boston Public Library was the first large free municipal library in the United States
In addition to its 8.9 million books, the library holding include rare books and manuscripts, maps, musical scores and prints. Among these are several first edition folios by William Shakespeare, original music scores from Mozart, Prokofiev's "Peter and the Wolf;" and the personal library of John Adams. The BPL is a landmark and anchor in Boston. Among the many events that take place in view of the library is the finish line of the Boston Marathon.