Modern Archives Institute
Find an Event
The Modern Archives Institute is not currently being offered.
The National Archives and Records Administration (NARA) is committed to reexamining and relaunching the Modern Archives Institute (MAI), in partnership with other institutions. We believe in the MAI and its contribution to archival professional development. However, relaunching the MAI will take time, given current staffing and other commitments. In the meantime, NARA will pursue hosting archival training courses at our various locations to help meet archival training needs.
We will provide more information about the redevelopment of MAI in the future.

When available, the National Archives and Records Administration, in cooperation with the Library of Congress, presents two sessions of the Modern Archives Institute each year.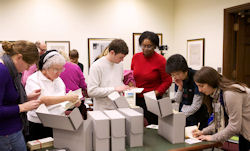 Purpose
To introduce participants to archival theory and practice and the responsibilities of archival work.
Participants
Participants usually have limited archival experience and represent a wide variety of archival repositories, large and small, public and private. Priority is given to persons who work with archives or manuscripts. Managers whose organizations include archival units, persons from other professions who require a basic understanding of archival work, and those who are preparing for a career in archives and manuscripts will be admitted on a space-available basis.
Program
The two-week program provides an introduction to archival principles and techniques for individuals who work with personal papers, as well as those who work with the records of public and private institutions and organizations. It is intended to help archivists acquire basic knowledge about caring for archival materials and making them available.
The Institute concentrates on the following basic archival functions:
Acquisition of archival material
Appraisal and disposition
Arrangement and description
Preservation
Reference and access
Public programs
Other topics include the management of archival institutions; administration of special types of archival materials, such as photographs and electronic records; funding; and ethics. The program includes lectures, discussions, workshops, a full day of activities at the Library of Congress, and tours of various units of the National Archives and Records Administration. Continuing education units are offered. Participants will receive several archival publications as well as other materials.
* Please see our Privacy Policy
All events listed in the calendar are free unless noted.