ERA Status and Accomplishments
What is ERA?
The National Archives and Records Administration (NARA) has set out on an ambitious course to tackle a great challenge facing archives around the world – ensuring that electronic records created today remains accessible and verifiable as an authentic record, long after the software and hardware used to produce these records have ceased to exist. NARA's solution to this challenge is the Electronic Records Archives, or ERA, a set of systems designed to archive the wide variety of electronic records known today, and to prepare for new types of records to be archived in the future.
Permanent records are made available to the public once we have screened them to protect sensitive information, including, but not limited to, national security, personal privacy, and law enforcement information. This is true for electronic records too.
From the beginning, NARA has also been at the forefront of archiving non­paper records such as sound recordings, films and those created using computers (dating back to the earliest days of computational technology). By the 1990's however, it was apparent that advances with the Internet and digital communications would dramatically change the ways by which information is created, shared and saved. For the past four decades, NARA has been able to keep up with archiving and preserving non­paper records by routinely migrating them to current, more stable preservation and access technologies. This practice, however, is no longer sustainable in an information age where creation and access formats change constantly and the growing volume of electronic records is today measured in terabytes (1 million megabytes).
ERA today is a set of information management systems designed to archive the variety of records that the government currently creates in electronic format. ERA will evolve to meet the needs of the
Government and the public as new electronic record formats and access tools emerge.
ERA's Major Functions:
ERA is really a "system of systems," with multiple components that perform different archival functions and that manage records governed by different legal frameworks. The actual architecture is more complicated, but the diagram below shows the four essential functions that ERA performs.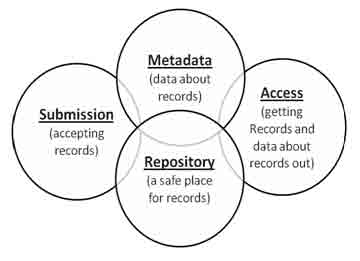 Government entities use the Submission function to deliver records and metadata to ERA. Electronic records are preserved and reviewed in the Repository. The National Archives' knowledge of what those historically valuable records are, who created them and why, and what processes have been applied to them is all documented in the Metadata. Finally, the public uses the Access function to do research on records that have been screened by archivists to remove restricted information (there are separate, non­public kinds of access for restricted records, as well.)
ERA currently makes it possible for the Archives to carry out its missions in bigger, better and more efficient ways:
It contains A LOT of history!
ERA supports over 500 TB of electronic records, including records from the George W. Bush White House, many Federal agencies, and Congress.


It has achieved efficiencies in government bureaucracy.
ERA provides online tools for Federal agencies to create and submit new record schedules to request disposition authorities, and improve the process for, and documentation of transfers of permanent records to the Archives.


Records management has been improved.
ERA supports records management functions, allowing an automatic link between the disposition authority, the request to transfer records covered by that authority, and the actual records being transferred. These automatic links mean that information from the records schedule pre­populates a transfer request that is authorized by the schedule, and electronic records come into the archive with a rich set of automatically associated provenance metadata.


It streamlines access to Presidential records.
The component for Presidential records supports review functionality for restrictions and redaction of restricted content, allowing the Archives to release electronic Presidential records to the public when they become eligible for public request through the Freedom of Information Act (FOIA).


It provides vastly improved support for preservation of electronic records.
To support long term preservation of records and information about them, ERA incorporates a standards­based XML metadata catalog with PREMIS elements for preservation metadata. The Archives' current policy is to maintain the records in the format in which they were transferred, in addition to new versions created from format transformation actions.

Capabilities not included in ERA at this time:
ERA does not currently provide fully automated tools for moving electronic records into OPA, limiting the amount of records available in OPA.

The Catalog is not integrated with the archival repository of ERA. Publicly accessible records, free of any access restrictions are loaded into The Catalog through other processes at NARA. Adaptations to ERA are planned to complete this integration, making the public accessibility of electronic records more timely.

Researchers who need additional support to electronic records that are not available in The Catalog are encouraged to contact NARA's archival reference staff for assistance in determining the location of these records and determining whether they can be reviewed in accordance with the Freedom of Information Act.


Content-based search of electronic records in the Base instance of ERA is not yet in place.

We do provide search of metadata associated with electronic records, but not the content.


Electronic preservation processing capability in ERA is not yet occurring.

Although a framework has been developed into ERA, we have not yet converted records from one format into another, although the basic capability to do so has been designed into the system.
However, most of the records that ERA contains are still easily usable with currently available hardware and software.

A primary goal of ERA was to provide a basic/standard level of preservation in terms of providing for safe storage of the original bits, and the capture of technical, provenance and event history metadata. This functionality is in place to provide a standard level of preservation service for each file ingested into ERA.


Access restriction review and redaction capabilities for Federal records in ERA is not yet in place.

ERA Base does not provide any capability to change existing restrictions on electronic records, or to redact partially­restricted records. NARA is using other systems for this functionality.>
ERA 2.0 Project
NARA has begun an ambitious pilot project to update and enhance the capabilities of ERA to meet the ever-expanding challenges in preserving born-electronic records and digitized materials. As part of this effort, we are leveraging Cloud services for greater scalability in terms of storage and computer processing to increase NARA's ability to preserve and provide access to greater amounts of digital materials over time. ERA 2.0 is currently being developed as a functional Pilot, using an Agile methodology that allows for frequent releases of new capabilities for testing and feedback from key stakeholders.
The ERA 2.0 system will consist of two major components, the Digital Processing Environment (DPE) and the Digital Object Repository (DOR). The DPE component will support the capability to upload digital materials of all types, provide a variety of software tools for verification and processing, provide the ability to create and edit metadata, and allow users to submit packages of processed digital materials to the DOR component for preservation. The DOR component will support the capability to ingest processed digital materials from DPE, to provide for safe archival storage, deliver advanced search & discovery capabilities, and the ability to provide digital materials back to DPE for further processing for preservation and public access through the National Archives Catalog.
NARA will be working in 2017 to continue the work in developing the ERA 2.0 functional Pilot, as well as begin to plan for the development of a production release of ERA 2.0 in the 2018 time frame. Important to note is that the part of the ERA Base system that provides online forms for Federal Agencies to schedule and transfer records is not undergoing an update or redesign at this time. NARA is planning to begin addressing any changes to this part of the system in 2018.
Page Last Updated: 08/30/16