National Archives and Records Administration
---
"The income tax law is a lot of bunk. The government can't
collect legal taxes from illegal money."

--Attributed to Al Capone
On April 23, 1930, the Chicago Crime Commission issued its first Public Enemies List; there were 28 names on it, and Al Capone's was the first. Capone headed an enormous crime organization that netted huge profits from the illegal liquor trade and he became a legendary symbol of the violent gangsterism of the Prohibition era.
Al Capone, 1930
(National Archives, Still Picture Branch,
306-NT-163.820C )
For years Capone remained immune to prosecution for his criminal activities. In June 1930, after an exhaustive investigation by the federal government, Capone was indicted for income tax evasion. One of the most notorious criminals of the 20th century--the man held most responsible for the bloody lawlessness of Prohibition-era Chicago--was imprisoned for tax evasion.

The trial was highly publicized. Hollywood celebrity Edward G. Robinson, who had portrayed a Capone-like character in the movie "Little Caesar," attended 1 day to observe the gangster role model, Capone. The names, addresses, and occupations of the 12 jurors who decided the case and signed this verdict were printed in Chicago newspapers. To reduce the chances of jury tampering, the judge tried to keep the trial as short as possible and confined the jury at night.
During the trial, the prosecution documented Capone's lavish spending, evidence of a colossal income. The government also submitted proof that Capone was aware of his obligation to pay federal income tax but failed to do so. After nearly 9 hours of deliberation, the jurors found Capone guilty of three felonies and two misdemeanors, relating to his failure to pay and/or file his income taxes between 1925 and 1929. Judge Wilkerson sentenced Al Capone to serve 11 years in prison and to pay $80,000 in fines and court costs.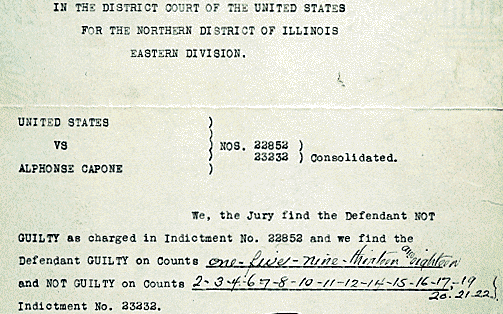 Verdict in United States of America v. Alphonse Capone, October 17, 1931

You can also see a high-resolution image of the verdict, which includes the signatures of the 12 jurors (118K JPEG).

Records relating to the prosecution of Al Capone are at NARA's Great Lakes Region (Chicago). They are in criminal case files of the U.S. District Court for the Northern District of Illinois.
[American Originals Menu]
---

National Archives home page

National Archives and Records Administration
URL: http://www.archives.gov/exhibits/american_originals/capone.html
inquire@nara.gov
Last updated: May 22, 1997 include($_SERVER ['DOCUMENT_ROOT']."/includes/components/web.trends.php"); ?>