National Archives and Records Administration
---
"AIR RAID ON PEARL HARBOR. THIS IS NO DRILL."

--Telegram from Commander in Chief of the
Pacific Fleet (CINCPAC) to all ships in
Hawaiian area, December 7, 1941
The Japanese attack on Pearl Harbor catapulted the United States into World War II. On December 7, 1941, the U.S. naval base on the island of Oahu, Hawaii, was subject to an attack that was one of the greatest military surprises in the history of warfare. In less than 2 hours, the U.S. Pacific Fleet was devastated, and more than 3,500 Americans were either killed or wounded.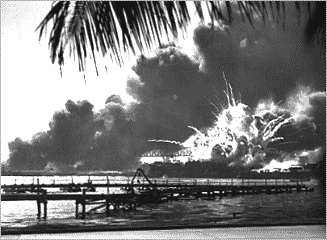 U.S.S. Shaw exploding during the Japanese raid on Pearl Harbor, December 7, 1941
(National Archives, Still Picture Branch, 80-G-16871 )
The American people were outraged. Though diplomatic relations between the United States and Japan were deteriorating, they had not yet broken off at the time of the attack. Instantly, the incident united the American people in a massive mobilization for war and strengthened American resolve to guard against any future lapse of military alertness.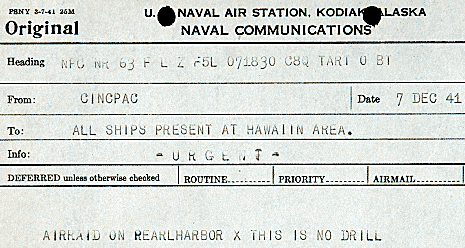 Radiogram reporting the Pearl Harbor attack, December 7, 1941

This urgent radio message was issued by the Commander in Chief of the Pacific Fleet (CINCPAC) minutes after the attack began.
National Archives--Alaska Region, Anchorage, Alaska, Records of Naval Districts and Shore Establishments.

President Roosevelt's famous "Day of Infamy" speech was a call to arms. One day after the attack, he expressed outrage at Japan and confidence in the "inevitable triumph" of the United States. On December 8 the United States declared war against Japan; on December 11 Germany and Italy declared war against the United States.

President Franklin D. Roosevelt's address to Congress, December 8, 1941 (detail)
You can read the pages of the Roosevelt's address:
You can hear a selection from the "Day of Infamy" speech:
National Archives, Records of the U.S. Senate, exhibited with the permission of the Senate.
The National Archives holds one of the largest collections of World War II documents in the world. Preserved in a number of the Archives nationwide facilities, the records chronicle the conflict from many points of view: Allied and Axis, homefront and battlefront, general and foot soldier.
[American Originals Menu]
---

National Archives home page

National Archives and Records Administration
URL: http://www.archives.gov/exhibits/american_originals/fdr.html
inquire@nara.gov
Last updated: March 1996 include($_SERVER ['DOCUMENT_ROOT']."/includes/components/web.trends.php"); ?>