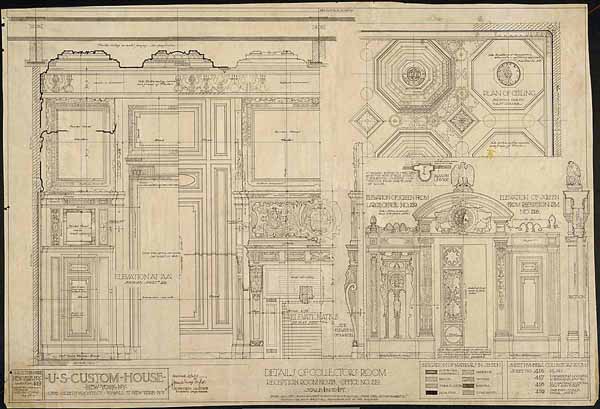 "Details of Collector's Room, New York Custom House, New York, NY"
Cass Gilbert, architect
Drawn by L.H.B. and L.M.L., November 1, 1904
Ink on tracing linen
27 1/2" x 19 3/4"
National Archives and Records Administration, Records of the Public Buildings Service
Cass Gilbert's New York Custom House
In 1892 Cass Gilbert, a young architect in his early thirties, won the national competition to design a new customhouse to be built at the southern end of Manhattan Island. His highly praised Beaux-Arts design incorporated classical as well as marine themes in its rich ornamentation, while his overall decorative scheme emphasized the growing commercial power of the United States. The centerpiece of Gilbert's design was the Collector's Room with its carved oak screen and ornate ceiling. Gilbert went on to design several other notable buildings, including the Woolworth Building in New York City and the U.S. Supreme Court Building in Washington, DC.