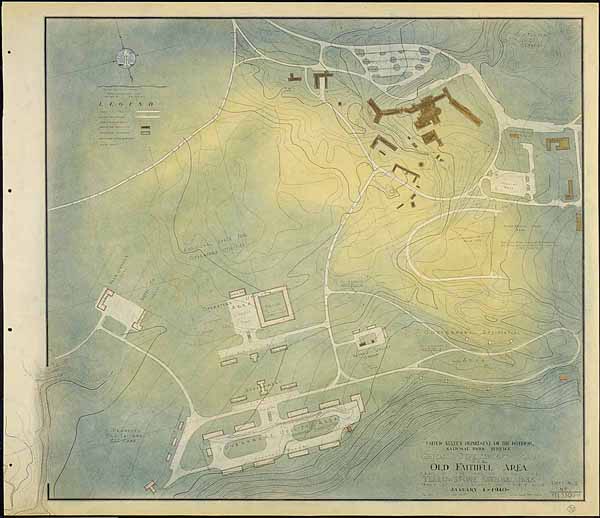 "General Development Plan, Old Faithful Area"
By an unknown draftsman for the Branch of Plans and Designs, January 1, 1940
Colored pencil on a photo-reproductive print on paper
36" x 42"
National Archives and Records Administration, Records of the National Park Service
National Parks: Yellowstone National Park
As tourism at national parks and monuments increased, the National Park Service expanded facilities at many of its sites. Future needs of the parks were eventually incorporated into "Master Plans" and "General Development Plans" prepared by the Park Service. These colorful plans from the 1930s and 1940s depict everything from the location of administration buildings, parking lots, and plantings, to the size of concession stands and placement of sidewalks and toilets. The plans were an effort to accommodate the needs of visitors while maintaining the integrity of the park. They also attempted to mesh the park's utilitarian needs with designs that reflected local architectural styles and traditions.