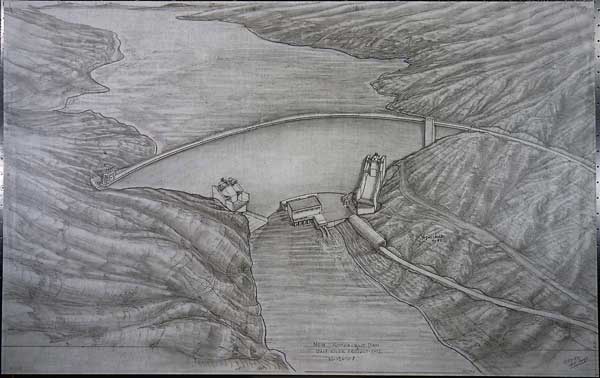 "New Roosevelt Dam Salt River Project Ariz."
By Vitaliano, November 29, 1982
Pencil and ink on tracing linen
24" x 15 3/4"
National Archives and Records Administration -- Rocky Mountain Region, Records of the Bureau of Reclamation

Improved Roosevelt Dam
The Theodore Roosevelt Dam is an example of the redesign of an historic structure. Constructed between 1903 and 1911 by the U. S. Reclamation Service, Roosevelt Dam, the largest masonry dam in the world, is located at the confluence of the Salt River and Tonto Creek in Arizona. During the 1970s, safety investigations revealed that massive flooding or earthquakes posed a danger to the integrity of the original structure. The Bureau of Reclamation (BOR) undertook its renovation in 1984. When the project was completed in 1996, improvements included raising the dam's height 77 feet, providing additional spillways, and improving the dam's safety, flood control, and water storage capabilities. BOR accomplished these improvements while preserving many of the original design features of this historic landmark.