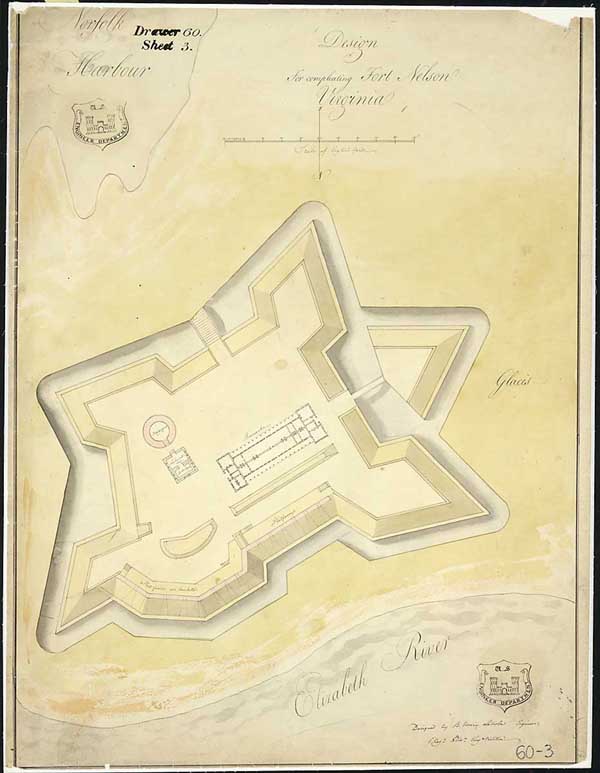 "Design for Completing Fort Nelson, Virginia"
By Benjamin H. Latrobe, 1798
Watercolor on paper
24 1/2" x 18 1/2"
National Archives and Records Administration, Records of the Office of the Chief of Engineers
Latrobe's Fort Nelson, Virginia
In 1798 Englishman Benjamin H. Latrobe surveyed the fortifications on both sides of the Elizabeth River near Norfolk, Virginia. His design for improvement of the existing 1794 Fort Nelson defenses there included the addition of bastions or projections from the exterior wall. Latrobe updated the placement of the battery at Fort Nelson according to the latest 18th-century French design. Although the cannons formerly had been fired through openings in the fort wall, the improved design mounted them on high carriages along a continuous parapet. Latrobe also widened the ditch around the fort and added protection for the barracks and magazine. These improvements were not begun until 1802, and Fort Nelson was abandoned in 1824. Latrobe became one of America's most renowned architects. In 1803 President Thomas Jefferson appointed him supervisor of the construction of the U. S. Capitol. After the burning of Washington by the British in 1814, Latrobe rebuilt the House and the Senate chambers in the Capitol.