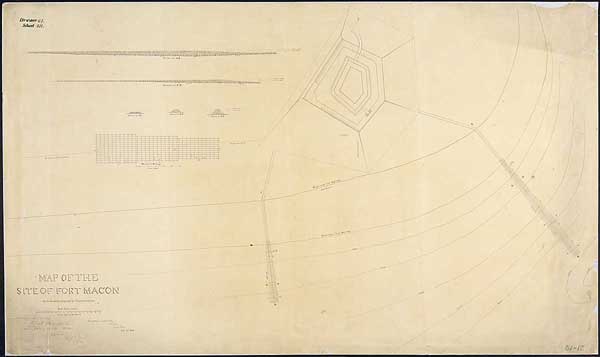 "Map of the Site of Ft. Macon with the Works Projected for its preservation"
By Capt. Robert E. Lee, February 22, 1841
Ink on paper
29 1/2" x 50"
National Archives and Records Administration, Records of the Office of the Chief of Engineers
Robert E. Lee's Fort Macon, North Carolina
Fort Macon stands on an island at the southern end of the outer banks of North Carolina. The fort, completed in 1834, was one of a series built along the east coast of the United States after the War of 1812. In December 1840, Robert E. Lee, then a captain with the U.S. Army Corps of Engineers, inspected Fort Macon for structural problems and for the serious erosion along its beach front. Lee's report to the Chief of Engineers included this drawing for the construction of two stone jetties to prevent loss of beach sand. Lee's proposal was approved, and his reports initiated a 5-year repair and alteration project.