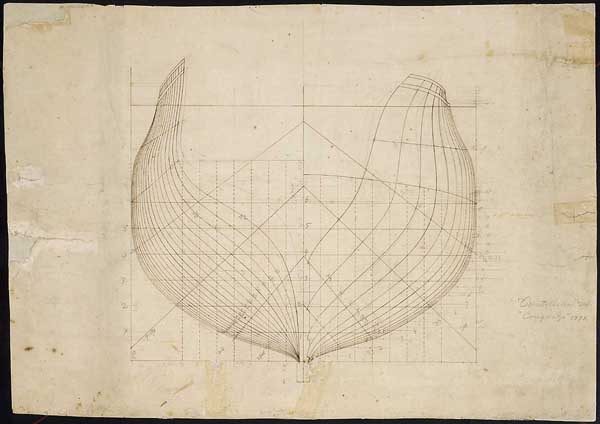 Drawing of the Hull for the U.S.S. Constellation and U.S.S. Congress
Designed by Joshua Humphreys and Josiah Fox, et al., 1795
Pencil and ink on paper 14" x 18"
National Archives and Records Administration, Records of the Bureau of Ships
Building the Federal Navy
Built to protect American merchant shipping from attacks at sea, the U.S.S. Constellation and the U.S.S. Congress were two of the first six frigates authorized by Congress on March 27, 1794. Many names are associated with their design and construction. Primary credit is usually given to Joshua Humphreys and Josiah Fox. Humphreys was an experienced ship builder and owner of a Philadelphia shipyard. Fox, an Englishman, was a talented ship designer and draftsman. William Doughty, a shipwright and draftsman, worked with Fox to prepare the building plans sent to the shipyards where the ships were built. The Constellation was built at the Sterrett Shipyard in Baltimore, Maryland, and launched on September 7, 1797. The Congress was constructed in Portsmouth, New Hampshire, and launched on August 15, 1799.