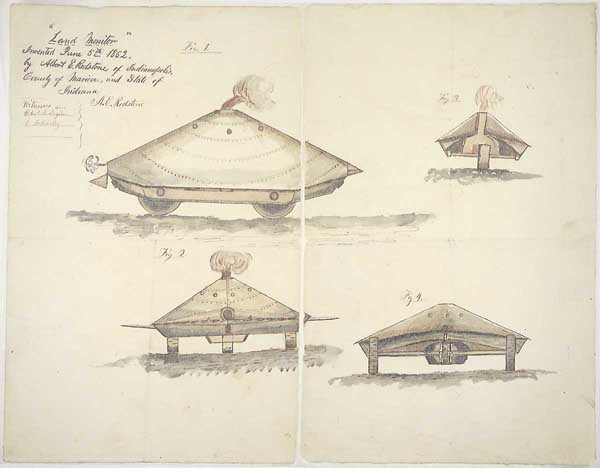 "Land Monitor"
By Albert E. Redstone, August 18, 1862
Watercolor on paper
16 7/8 " x 13 3/8"
National Archives and Records Administration, Records of the Office of the Chief of Ordnance
Proposed Military Inventions: Land Monitor
The Civil War generated many proposals for new military inventions. Here are drawings of two innovative ideas selected from hundreds of submissions found in the files of the Office of the Chief of Ordnance. Albert E. Redstone, an Indiana inventor, sent this design for a "Land Monitor" to Secretary of War Edwin M. Stanton. Redstone asked for authority to construct one land monitor on the condition that the War Department would accept it if it proved successful. He claimed his invention could run into enemy lines firing 5,000 shots in 5 to 10 minutes and said it was impregnable to enemy fire. He also claimed it required only two men to operate but had the fighting force of a entire division. This project was not built.