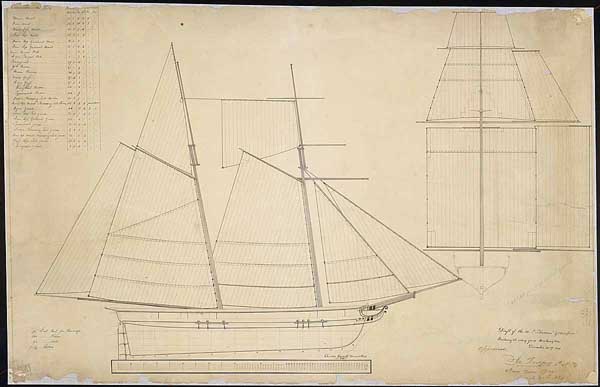 "Draft of the U.S.S. Schooner 'Grampus,' building at Navy Yard, Washington, DC"
Designed by Henry Eckford
Drawing by Charles Cassell, December 22, 1820
Ink on paper 25" x 38 1/2"
National Archives and Records Administration, Records of the Bureau of Ships
U.S.S. Schooner Grampus
Designed by Henry Eckford, the Grampus, was built in the Washington Navy Yard by William Doughty. It was the largest of five schooners built by the Navy to suppress piracy and slave trading. On August 16, 1822, during its first cruise, the Grampus encountered a Puerto Rico-based pirate ship flying Spanish colors and sailing under bogus privateer papers. The American ship quickly reduced the outlaw vessel to a floating wreck. The Grampus remained active in the Caribbean Sea and the South Atlantic until it was lost at sea on January 23, 1843. Sailmaker Charles Cassell drew this plan showing the size and shape of the schooner's sails.