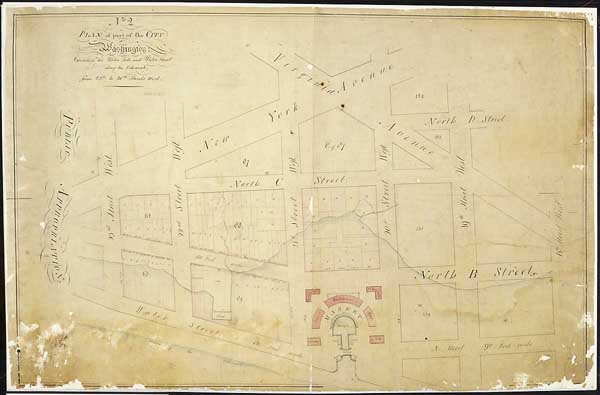 "Plan of the City of Washington Exhibiting the water lots and Water Street along the Potomack [sic] from 23rd to 20th Streets west."
By Nicholas King for the Board of Commissioners of the City of Washington, 1797
Ink and wash on paper
18" x 24"
National Archives and Records Administration, Records of the Office of Public Buildings and Public Parks of the National Capital
Nicholas King's Wharfing Plans, Washington, D.C.
Pierre L'Enfant's 1791 plan for the city of Washington did not provide adequate guidance for the development of the city's land-water boundary. To correct this problem, Nicholas King, as Surveyor of the City of Washington, submitted to the city's Board of Commissioners a set of 12 drawings known as the "Nicholas King Wharfing Plans of the City of Washington." King's plans redrew the land-water boundary, realigned Water Street, and established regulations for the orderly building of wharves that allowed for street access to the Potomac River and the Eastern Branch (Anacostia River) at set intervals. King was also interested in protecting river navigation channels. His plan covered the Washington waterfront from the point in Northwest where Rock Creek empties into the Potomac River and continued around to the Eastern Branch as far as G Street in Southeast. In King's drawings, the original course laid out for Water Street is marked in black, and his improved course is annotated in red. Two of King's 12 drawings for this project are included in this exhibit.