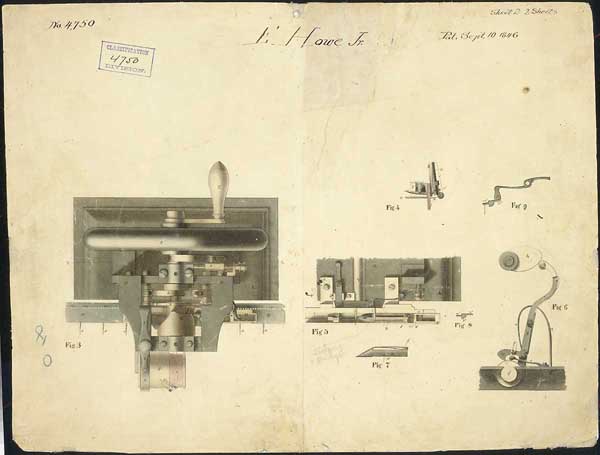 Sewing Machine
By Elias Howe
Patent granted September 10, 1846
Ink and wash on paper
17" x 23 1/2"
National Archives and Records Administration, Records of the Patent and Trademark Office
Howe's Sewing Machine, Patent Drawing
After his health failed, Elias Howe's wife took in sewing to support the family. While watching his wife at work, Howe realized that no machine could duplicate the sewing motions of her hands and arms. Instead, he developed a method of sewing that used two interlocking threads. His invention employed a needle and a shuttle thread to form each stitch. Howe claimed that his machine could sew 250 stitches a minute. Invention of the sewing machine revolutionized the textile and garment industries. This exhibit includes two of several drawings of the lockstitch sewing machine Howe submitted to the Patent Office.