Federal Records Centers Account Manager Cindy Belcastro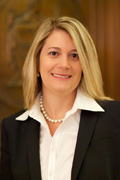 Cindy Belcastro is based in College Park, Maryland, and joined the National Archives and Records Administration in December 2011. Prior to that, she spent twelve years with Iron Mountain in account management and customer service.
Prior to her private sector business experience, Cindy served four years active duty and twelve years in the reserves as a Store keeper in the United States Navy. Cindy brings a wealth of knowledge and experience in records and information management.
Cindy can be reached at cynthia.belcastro@nara.gov. or 301-837-3760.
For a list of agencies Cindy serves, please visit the Alphabetical list of Agencies with Contacts page.
Updated: February 19, 2013