Standout Census Stories: Who Are You? Using the Census to Add Context to Family Photos
By Editorial Staff | National Archives News
Editor's note: The National Archives and Records Administration (NARA) is scheduled to release the records of the 1950 Census on April 1, 2022. In anticipation, National Archives News is publishing a series of stories about what can be gleaned from census records, and how personal histories can encapsulate entire eras. This Standout Census Story comes from Rebecca Crawford, Supervisory Archivist with the Accessioning and Basic Processing unit based at the National Archives at College Park.
Sign up for updates about the 1950 Census and a reminder to join the transcription project.
WASHINGTON, March 14, 2022 — Many people have a love-hate relationship with old family photos. We love to look at the faces of our ancestors but may be unhappy when we don't know who the people are or how they fit into our family tree. If we are lucky, someone has written a name or notation on the back of the photo, which can help us identify the person and put them into context.
In December 2018, my father-in-law, Laurence Crawford, lost his battle with cancer. After his passing, we took possession of the family photos. Some of the photos were rather old—from the late 1800s and early 1900s. Thankfully, some had names, and I was able to establish their link to my husband's family based on prior genealogical research, but there were still a few that left lingering questions.
One such photo depicted an infant, and on the back was written, "Morgan W. F. Dickerson, Jr., age 4 months & 5 days, With compliments & much love to Aunt Emma." Another was a photo of a house with a young child standing in front of it. On the back of this photo was the address "500 Manuta, Woodbury, New Jersey."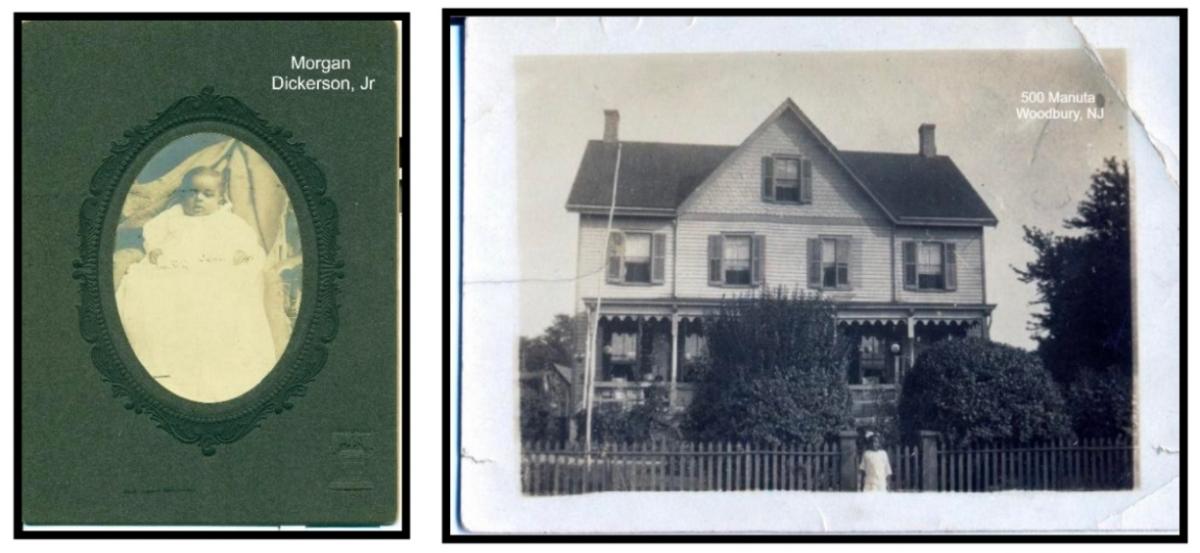 I began my search for clues by researching the New Jersey address located on the back of the photo. I didn't know when the photo was taken, so I began by searching the most recently available census—1940. Searching the census using an address can be tedious, but using tips and search features found at https://1940census.archives.gov/getting-started can help the researcher figure out the Enumeration District (ED) for a specific street. Once I got down to a couple of EDs, I began searching those areas page by page until I located the household.
1940 Census

The search was successful and provided information about the people living at this address. Based on the data in the census, I now knew the head of the household was Anna B. Dickerson, a married 63-year-old woman born in Virginia. The census also listed her son Joseph, age 29, born in New Jersey. However, the census did not show Anna's husband as a member of the household. At this point, I was still missing key details, so I used the newly gathered information to search the 1930 census.
1930 Census

The 1930 census provided additional clues and identified Morgan Dickerson, Jr., as Anna's child. This information linked the photos of the child to the house and verified we were moving in the right direction in order to place these photos in the family tree. The 1930 census also listed Anna's younger son, Joseph, but again no husband is listed. One can assume that her husband is Morgan Dickerson, Sr., but searching the 1920 census still did not verify this information since her husband was not listed in the household. Although we still didn't have a husband, we did add another member to the family tree: Naomi, age 13, Anna's daughter.
1920 Census

1910 Census

The 1910 census finally verified that Anna's husband was Morgan Dickerson, Sr. It also identified Morgan's father as John Dickerson, since Anna and Morgan were living with him in 1910
1940 Census

Curious about Morgan Sr.'s absence from his wife's household, I used the information I previously found to locate him in the census. Turns out in 1940 he was living in Atlantic City, New Jersey, with his daughter Naomi and his granddaughter. The census lists his occupation as a public school teacher. Did Anna and Morgan live in separate houses due to his occupation? It is possible.
At this point I knew that Morgan Dickerson, Jr., was the son of Morgan Dickerson, Sr., and Anna B. Dickerson. He was born in Pennsylvania around 1909 and had at least two siblings, Naomi and Joseph, both of whom were born in New Jersey. The use of the census records provided contextual information about the photo of baby Dickerson and the photo of the house, but didn't provide the link to my husband's family tree. To fully establish the link, I had to use the information obtained from the census to search other records.
Using the names of Anna, her husband, and his father, I was able to find a transcription of a marriage record that listed her parents as George and Elizabeth Adams. The transcription also indicated this was Anna's second marriage. This was evident because she is listed as a widow, and her name is recorded as Annabelle Adams Peck. This was the link I needed to add Anna, Morgan Jr., and the house, to the family tree. It turns out that Anna is my husband's great-great aunt, Annabelle (Anna) Dickerson, née Adams. And remember the note on the back of Morgan Jr.'s photo—"With compliments & much love to Aunt Emma"? This likely refers to Anna's sister, Emma Adams.
According to the census, Anna had several siblings: Adolphus, Amanda, Emma, Irene, Joseph, and Lavinia. Her parents were George and Elizabeth Adams. They were all born in Virginia, and the census lists them in Lynchburg, Virginia. However, during adulthood most of the family left to start their lives in other states. Among those who moved were my husband's great-grandparents, Henry and Irene (Adams) Grimes, who eventually settled in the District of Columbia and had several children of their own.
Unfortunately, I still don't know the name of the young girl standing in front of the house, and I may never know her name, but I can firmly say that a lot of information that could have been lost for generations has been reestablished and can now be shared with living family members and passed down to future generations.
As a side note, Morgan Dickerson, Jr., later attended dental school at Howard University and became a dentist in Denver, Colorado, where he lived out his final days. One day I hope to visit the Denver Public Library, which has a collection of personal documents related to him, including more photos, which may answer more questions!
Say hello to the Adams family!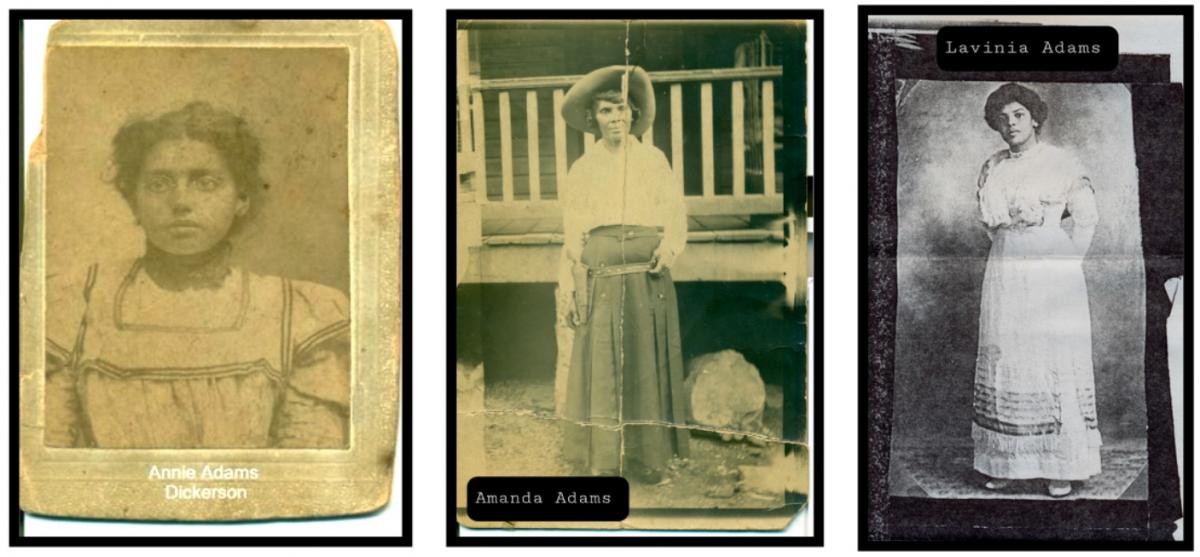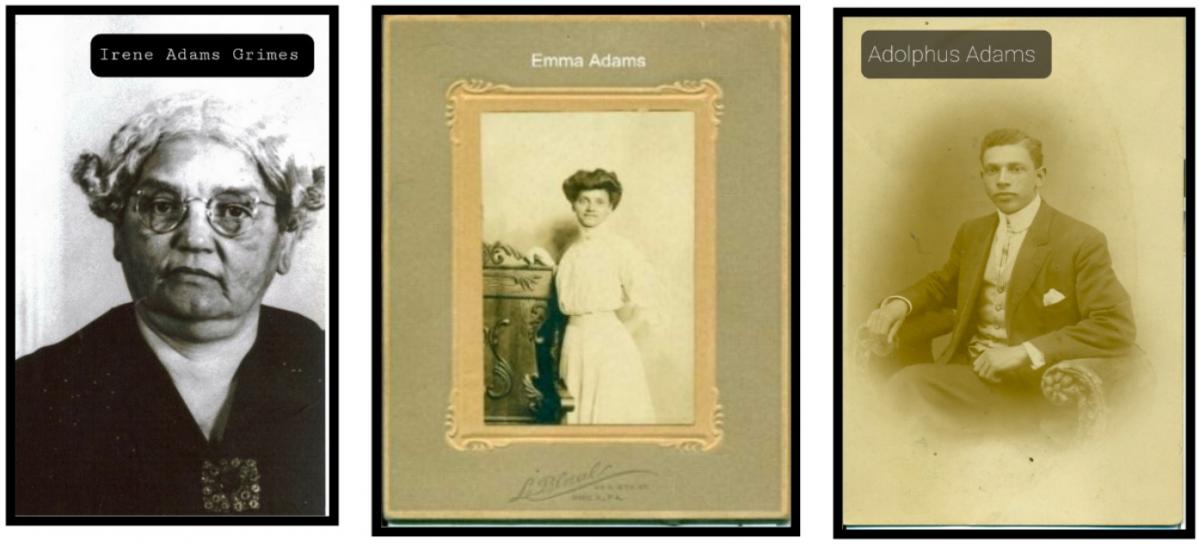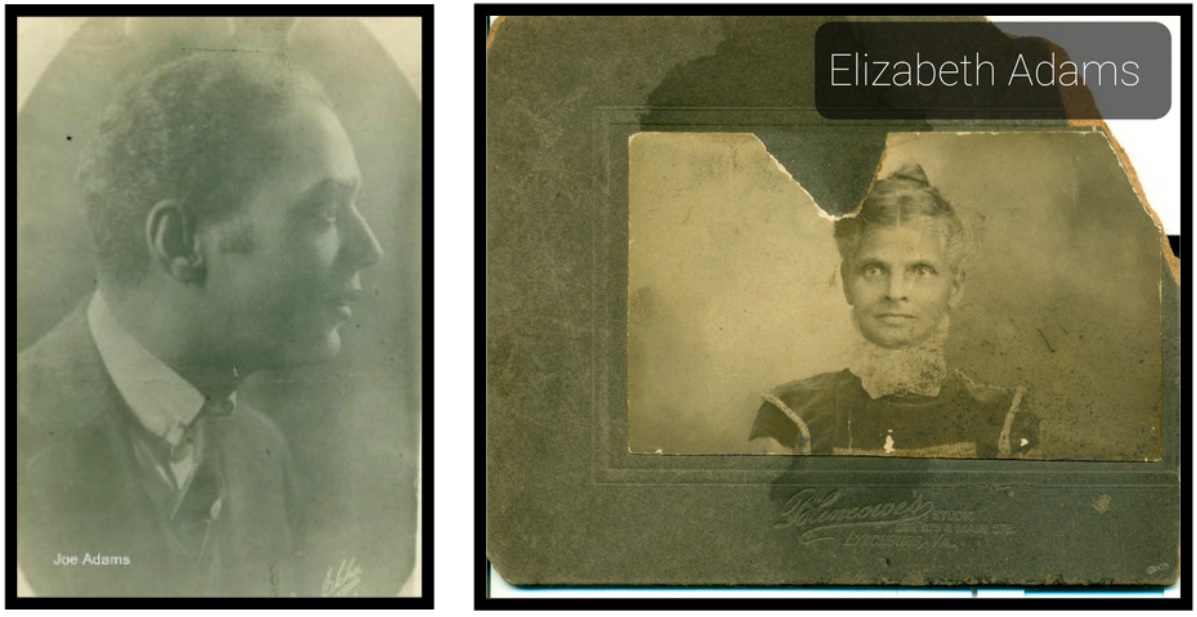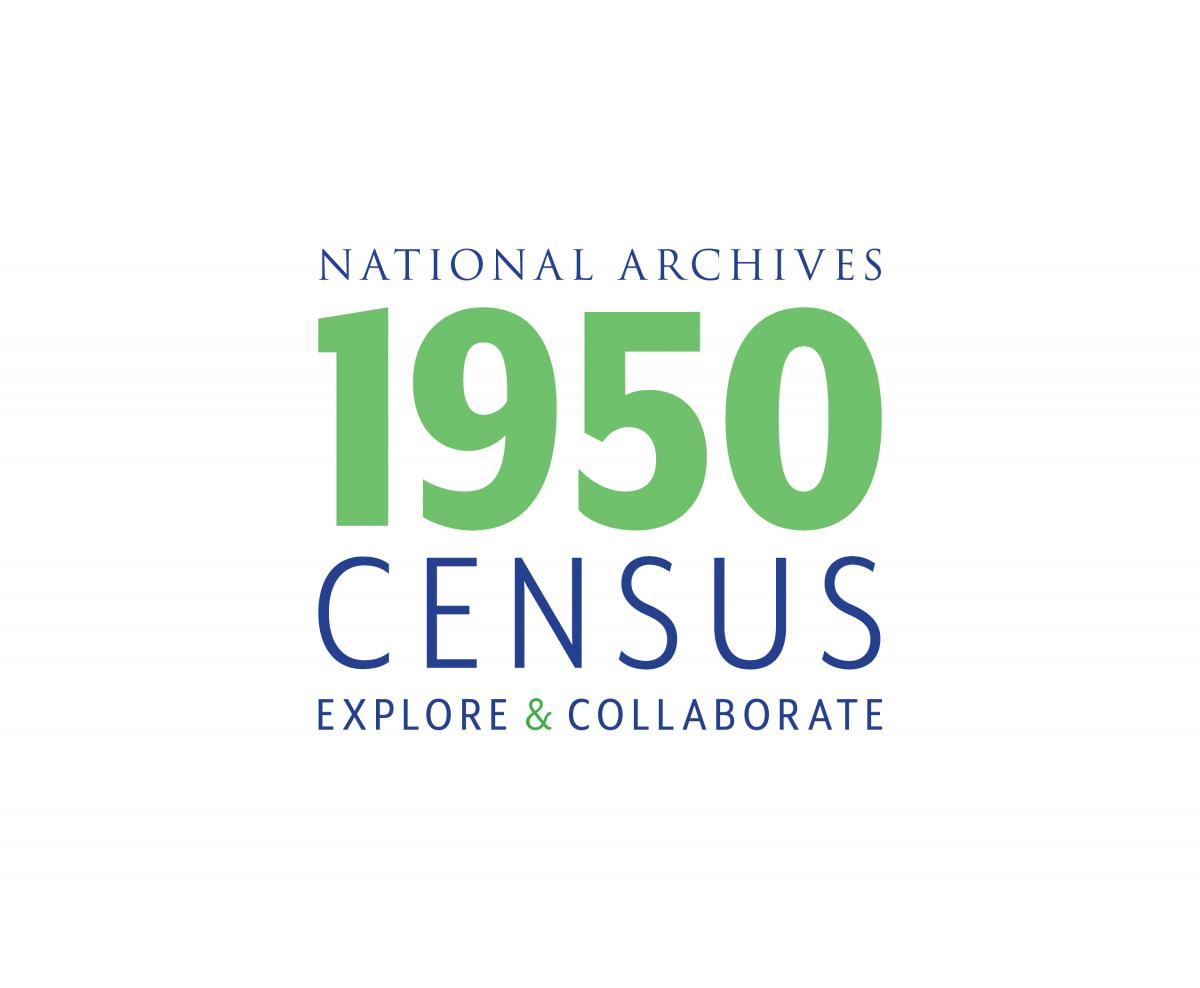 Read previous Standout Census Stories:
Stay updated on the latest 1950 Census information:
You can also read more about enhanced digital access and public collaboration opportunities on National Archives News, and follow the National Archives on Instagram, Twitter, and Facebook as we share images and documents related to the 1950 Census.