Criminal Intent in the World's Port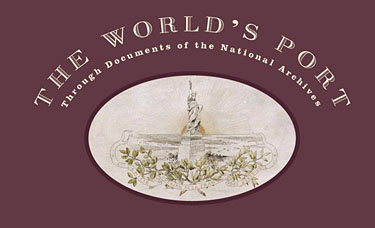 Criminal Intent
During peacetime and war, the captain, crew, and passengers had to be concerned with major disruptions that could threaten the survival of the entire ship. After the dust settled, the Federal courts would be used to judge criminals or divide the spoils of war.
---
Murder and Mayhem
In Murder and Mayhem, the stories of mutineers, pirates, and slave-traders is presented through indictments, depositions, and testimony that bring these stories to life.
An Enemy Belligerent
In An Enemy Belligerent, the story of the southern blockade runner the Mary and the northern navy steamer USS Mackinaw are explored through prize case files.
---
The World's Port exhibit reflects primary source documents can tell important stories of our past, that the National Archives has these documents, and that they are available for everyone to learn from and discover.
The World's Port exhibit ran from September 21, 2012 through November 25, 2012 at the Alexander Hamilton U.S. Custom House at One Bowling Green, New York, NY.