Dangers and Disasters in the World's Port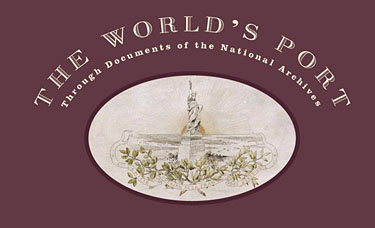 Dangers and Disasters
In Dangers and Disasters, two of the most infamous sinkings of the 20th century are brought to life through documents filed as part of a Federal Court case. Linked by their catastrophic losses, the Titanic and Lusitania tragedies had long-term impacts on safety in the shipping industry.
---
Perilous Ice
In Perilous Ice, the tragic sinking of the Titanic is told through photographs, depositions, charts, and deck plans.
Torpedoed
In Torpedoed, the controversial sinking of the Lusitania by a German submarine is told through cargo manifests, receipts, and maps.
---
The World's Port exhibit reflects primary source documents can tell important stories of our past, that the National Archives has these documents, and that they are available for everyone to learn from and discover.

The World's Port exhibit ran from September 21, 2012 through November 25, 2012 at the Alexander Hamilton U.S. Custom House at One Bowling Green, New York, NY.