The Immigrant Experience in the World's Port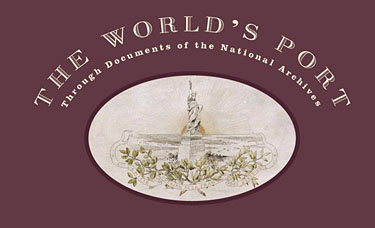 Immigrant Experience
The Immigrant Experience demonstrates the role played by the Port of New York as the gateway to America for the millions of immigrants is highlighted. The Port of New York is the World's Port because people from every spot on the globe entered and began their American experience through its golden door.
---
The Journey
The story of The Journey is told through passenger arrival manifests, tickets, handbills and photographs highlighting different parts of the immigrant's voyage from their homeland to their new home.
The Arrival
In The Arrival, photographs, reports, and letters illustrate the immediate experience of new Americans as they endured inspections and examinations at places like Ellis Island.
---
The World's Port exhibit reflects primary source documents can tell important stories of our past, that the National Archives has these documents, and that they are available for everyone to learn from and discover.
The World's Port exhibit ran from September 21, 2012 through November 25, 2012 at the Alexander Hamilton U.S. Custom House at One Bowling Green, New York, NY.