Preservation Conference Directions, Parking Instructions and List of Hotels
Directions By Metro / Metrobus
Best way to reach Archives II: Take Metrorail Green Line to the Prince George's Plaza Metro station. Take R3 GREENBELT Metrobus. Get off at next bus stop ARCHIVES II (approximately 12 minutes). (See map, below)
From Local Hotels/Motels
The local area hotels/motels will provide shuttle bus service to and from Archives II for residents upon request.
By Car
There is no parking at Archives II for conference attendees.
Conference attendees are requested to park at the University of Maryland Stadium Garage Parking Lot.
Please park at the Stadium Garage Parking Lot - South Entrance (See Map, below).
From University Boulevard turn onto Stadium Drive, bear right at the traffic circle. The South Entrance to Garage is 1/10 mile on the left. The charge is $8.00 per day. The conference coordinators will provide prepaid vouchers to preregistered conference attendees.
The shuttle stop for the National Archives shuttle will be near the South Entrance to the garage and the shuttle bus will be a van identified by a Preservation Conference sign in the window.
The shuttle bus will run continuously between the hours of 7:45 am and 10:00 am and again at 4:00 pm and 6:00 pm. From 11:00 am to 3:00 pm it will parked at the National Archives front entrance and will make a shuttle run every hour on the hour if passengers are present.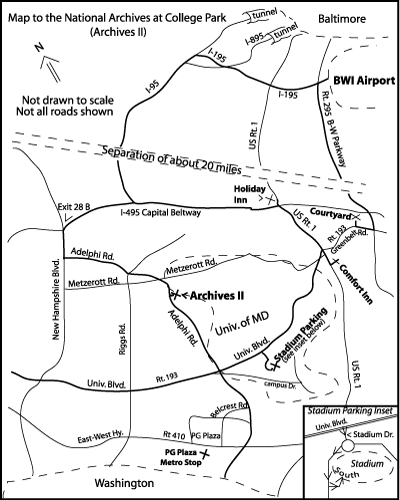 Hotels/MD/DC
The Inn and Conference Center (301)- 985-7310
University of Maryland, University College
University Blvd., at Adelphi Rd.
College Park, MD 20742-1601



Best Western Maryland Inn (301) 474-2800
8601 Baltimore Blvd., (Route1)
College Park, MD 20740



Comfort Inn and Suites (301) 441-8110
9020 Baltimore Blvd., (Route 1)
College Park, MD 20740



Deluxe Budget Inn (301) 474-0003
Baltimore Blvd., (Route 1)
9624 College Park, MD 20740



Greenbelt Marriott (301) 441-3700
6400 Ivy Lane
Greenbelt, MD 20770



Courtyard by Marriott (301) 441-3311
6301 Golden Triangle Drive
Greenbelt, MD 20770



Holiday Inn College Park (301) 345-6700
10000 Baltimore Blvd., (Route 1)
College Park, MD 20740



Holiday Inn Capitol (202) 479-4000
550 C St. SW
Washington, DC 20024



Holiday Inn Crowne Plaza at Metro Center (202) 737-2200 (800) HOLIDAY
775 12th St. NW
Washington, DC 20005



JW Marriott Hotel on Pennsylvania Ave. (202) 393-2000
1331 Pennsylvania Ave. NW
Washington, DC 20004