Resources - Publications: Disposition of Federal Records - Chapter 7
2000 Web Edition (of 1997 printed publication)
Disposition of Federal Records - Table of Contents
VII. Program Evaluation
---
VII. Program Evaluation
Each agency needs to evaluate its records disposition program periodically.

Requiring internal reports on record holdings and cost avoidance helps in the evaluation process.

Instances of unauthorized disposition of Federal records must be reported to NARA.

Agencies should follow NARA guidelines for evaluating a records disposition program.
NARA conducts single-agency and interagency evaluations of records management programs, including records disposition.
---
Introduction
Good management necessarily involves evaluating an agency's records disposition program to make improvements. These may include clearer schedule instructions, shorter retention periods for temporary records, prompter disposal or transfer of eligible records, better design of information systems to address disposition concerns, enhanced safeguards against unauthorized disposition, and better relations with other agency managers and NARA.
Besides reviewing its records schedule annually, each agency is required to evaluate periodically its records management programs, including records disposition, for compliance with relevant laws and regulations and for effectiveness. Likewise, in its oversight role, NARA periodically conducts single-agency and interagency evaluations for the same purposes. (See 36 CFR 1220.)
---
Reports on the Program
To aid in the evaluation process, the agency should consider requiring at least two statistical reports: one on record holdings and another on cost avoidance. It should also require reports on any instances of unauthorized disposition of Federal records, whether accidental or deliberate.
Report on Record Holdings
This report can help show how well offices are applying approved schedules. It should include volume data (in cubic feet) on record holdings, disposals, and transfers taking place during the past year. The report should distinguish between transfers of eligible records to records centers and transfers of permanent records to the National Archives. It should also distinguish paper-based records from electronic, audiovisual, and other special records. Analysis of this report can show trends, such as total volume, volume per employee, and the increased use of electronic information systems.
Report on Cost Avoidance
To compute costs avoided because of the disposition program, records officers should consider these factors:
Replacement cost of each file cabinet, magnetic tape, or other item released.
Value of shelving released (per linear foot), including shelving in tape libraries.
Value of office and storage space released (per square foot).
Avoidance of personnel costs.
Since unit costs generally change from year to year, records officers should obtain current figures from GSA or NARA. Periodic reports to high officials should emphasize the benefits of good records management. Other means of communicating the program's value include posters, flyers, newsletters, and articles in agency publications.
Report on Unauthorized Disposition
Agencies must report to NARA any instances of unauthorized disposition of Federal records because such unauthorized action is illegal (44 U.S.C. 3106) and may lead to fines and imprisonment (18 U.S.C. 2071). Reporting requirements are set forth in 36 CFR 1228 and are discussed in chapter VI of this handbook. Records officers should review all such reports during the evaluation process.
---
Self-Evaluation Guidelines
Agencies should follow guidelines issued by NARA for evaluating their records disposition program and other records management programs, such as files maintenance. NARA has issued a self-evaluation guide for agency use entitled "Records Management Self-Evaluation Guide," of which part V relates to records disposition.
Figure 7-1 contains basic questions to answer in evaluating an agency's records disposition program.
NARA has also issued a "Checklist for Evaluating Recordkeeping Practices in Your Office." Although this checklist relates primarily to files maintenance at the individual office level, its use should help ensure that records are ready for appropriate disposition action.
---
NARA's Evaluation of Agency Programs
NARA periodically evaluates the records management programs of Federal agencies. These evaluations usually cover overall program management, records creation and maintenance, and records disposition. The records disposition aspects include scheduling, the use of records storage facilities, and the transfer of permanent records to the National Archives.
The purpose of NARA's evaluations is to assist agencies in adequately documenting their activities and in providing for the proper maintenance and disposition of records. NARA bases its evaluations of records disposition programs on the requirements set forth in 36 CFR 12286 and on the guidelines already contained in this chapter. Such evaluations enable NARA to assess the effectiveness of its regulations, especially as they relate to rapidly changing technologies and agency needs.
When NARA has completed a program evaluation, the agency has an opportunity to comment on the findings before a final report is issued. NARA then requires the agency to submit an action plan, detailing how and when the recommendations will be implemented. After NARA reviews and comments on the action plan, the agency needs to report every 6 months on its progress in implementing the recommendations until it is notified otherwise. Meanwhile, NARA assists the agency in implementing the recommendations.
Besides evaluating the records management programs of specific agencies, NARA also conducts interagency evaluations and issues general evaluation reports. For example, in 1991 it published a report entitled "The Management of Audiovisual Records in Federal Agencies." This report summarized five individual agency evaluations as well as other available information. In examining recent patterns and trends, it concluded that most Federal agencies still needed to develop comprehensive inventories and records schedules for audiovisual records. It recommended that agencies develop comprehensive recordkeeping requirements for such records, implement basic management and preservation steps, take immediate measures to safeguard specific audiovisual media, and establish procedures for transferring permanent audiovisual records to the National Archives.
---
Conclusion
Periodically evaluating the records disposition program enables the agency to identify needed improvements. But just as a records schedule is useless without implementation, so a program evaluation is pointless without follow up. If the agency is to have a successful records disposition program, it must implement the evaluation's recommendations and allocate the necessary staff and other resources.
NARA evaluates Federal records management programs, including records disposition, to assist agencies in managing their records. It also uses such evaluations to determine if its regulations are keeping up with rapidly changing technologies and agency needs.
In short, managing a records disposition program is an important responsibility. A successful program helps ensure that the agency has the recorded information necessary to conduct Government business, avoid waste, and preserve America's documentary heritage.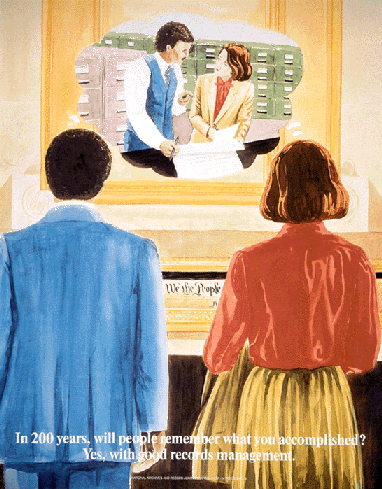 Note: Web version may vary from the printed version.