General Dwight D. Eisenhower gives the order of the Day. "Full victory-nothing else" to aratroopers in England, just before they board their airplanes to participate in the first assault in the invasion of the continent of Europe. (NWDNS-111-SC-194399)
One of the units that spearheaded the Allied assault on D-day and continued to serve throughout the European Campaign was the 101st Airborne Division. Nicknamed the "Screaming Eagles" for their division insignia, they parachuted into Normandy prior to the amphibious landing on June 6, 1944. General Eisenhower is shown encouraging some of the men before they left England.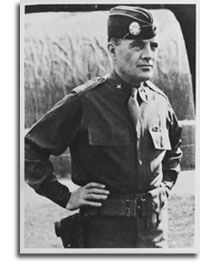 Although he had never received formal parachute training, Brig. Gen. Anthony C. McAuliffe volunteered to jump with the first wave, for which action he was recommended for promotion. During the Battle of the Bulge, General McAuliffe received the Distinguished Service Medal for leading the epic defense of the town of Bastogne during attack by overwhelming German forces. When asked by the German general to surrender, he responded with the now famous one-word answer, "NUTS!" Bastogne was saved. General McAuliffe went on to serve America for many years.