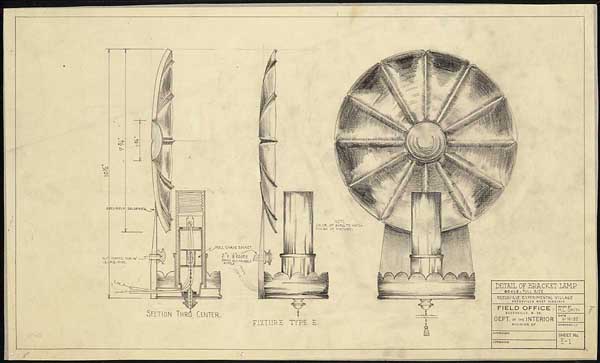 "Detail of Bracket Lamp"
By H.L. Smith for the Resettlement Administration's Reedsville Experimental Village, Reedsville, West Virginia, June 10, 1935
Pencil on tracing paper
14 3/4" x 25 1/4"
National Archives and Records Administration, Records of the Farmers Home Administration
New Deal Planned Communities: Arthurdale, Reedsville, West Virginia
As part of the effort to assist some of those unemployed by the Great Depression, several federal agencies under President Franklin Roosevelt's New Deal built experimental, planned communities, known as "new towns." This lamp was designed for homes in Arthurdale, a New Deal "subsistence homestead" near Reedsville, West Virginia. Arthurdale was one of First Lady Eleanor Roosevelt's favorite projects. She not only encouraged the town's economic development and lobbied the Government to provide schools, electricity, and indoor plumbing, but used her own money to hire a teacher and pay for a health clinic, doctor, and nurse. Planned primarily as an agricultural community, the town also had a small factory that forged many of the town's lighting fixtures and hardware, including, in all probability, the "bracket lamp."