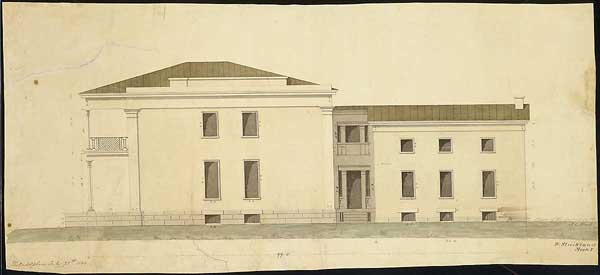 Design for the Naval Asylum in Philadelphia
By William Strickland, ca. 1826-33, drawing signed 1844
Ink and wash on paper
14 3/4" x 33 1/4"
National Archives and Records Administration, Records of the Bureau of Yards and Docks
William Strickland Designs
Authorized by Congress in 1811, the Naval Home at Philadelphia was built with money collected from officers and men of the U.S. Navy and Marine Corps at an individual rate of 20 cents a month. By May 26, 1826, the fund was large enough for the Secretary of the Navy to purchase 24 acres of land for $16,000. William Strickland designed the asylum in the Neoclassical style. Strickland's simple elevation shows square and elongated rectangular windows, a low hipped roof, and restrained use of ornamentation. The asylum was built with cast iron columns to fireproof the structure. Although the cornerstone was laid on April 3, 1827, and the building was completed on December 3, 1833, Strickland signed this drawing in 1844.