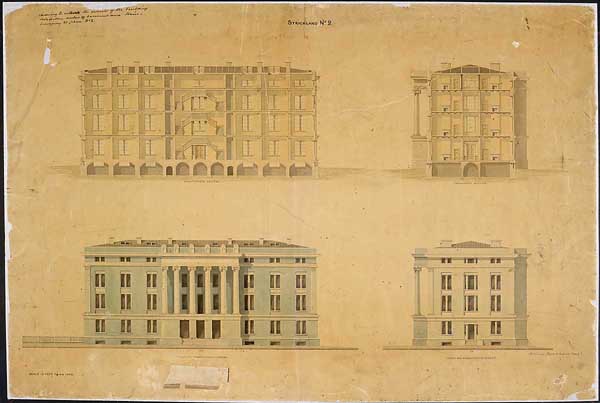 Plan for the War Department Building at Pennsylvania Avenue and 17th Street, Washington, DC
By William Strickland, ca. 1845
Ink and wash on paper
26 1/2" x 39 1/2"
National Archives and Records Administration, Records of the Office of the Chief of Engineers
William Strickland Designs
William Strickland entered this drawing in the competition for new and larger War and Navy Department buildings. Strickland proposed two identical buildings, one for each department. Each structure was to have 64 rooms and was to be built with cast iron columns for fireproofing purposes. The facades at the bottom of the page show Strickland's simple symmetrical elevations with elongated rectangular windows, a low hipped roof, and plain wall surfaces. His restrained use of ornamentation is limited to gigantic Ionic columns across the center portico and carvings above the attic windows. The longitudinal and transverse sections at the top of the page give a sense of the interior spatial arrangement. Strickland's design was rejected, and the outbreak of the Civil War delayed action on this project. After the war, interest in this project resumed, but, by this time, the elaborate French Second Empire style of architecture had replaced the severe Neoclassical as the fashion of the day. In 1871 Alfred B. Mullett designed the replacement State, War, and Navy Building as an exuberant Second Empire composition. Mullet's building is now known as the Old Executive Office Building and remains a landmark at the corner of Pennsylvania Avenue and 17th Street in Washington, DC.