For decades, the National Archives has been a great resource for bringing primary sources into the classroom. In conjunction with "Discovering the Civil War" we would like to point to some of the special materials that can prepare your class for a field trip or that make it easy to use National Archives' records in your own classroom.

Educational materials and resources for Discovering the Civil War are generously supported by AT&T.
Boeing Learning Center The ReSource Room of the Boeing Learning Center makes a great extension for your visit to the exhibit. The space contains hundreds of facsimiles of records related to the Civil War. ReSource Room staff are prepared to help you locate maps of battlefields, telegrams from President Lincoln, photographs by Mathew Brady and much more. We'll have magnifying glasses to encourage closer looks and ideas on how to engage students in the records. You can also make full color copies of records to take back to your schools. Learn More
Teaching with Documents National Archives' education specialists have produced a number of articles with companion lesson plans related to Civil War history. Teaching with Documents contains reproducible copies of primary documents from the holdings of the National Archives of the United States, teaching activities correlated to the National History Standards and National Standards for Civics and Government, and cross-curricular connections.
Teaching with primary documents encourages a varied learning environment for teachers and students alike. Lectures, demonstrations, analysis of documents, independent research, and group work become a gateway for research with historical records in ways that sharpen students' skills and enthusiasm for history, social studies, and the humanities.

Over the last few months we have been adding hundreds of Civil War records to this great online tool for discovery. This is a great place to find records described in ways that will be accessible to students. And it's much more than just the records themselves: Search for documents, Collect your favorites and use these records to Create a poster, movie or pathway challenge.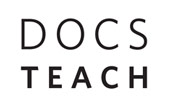 Try out our newest online tool kit. DocsTeach's revolutionary design lets you easily use, modify or create your own interactive lessons and share them with colleagues. Special model lessons are being designed in connection with themes in the Discovering the Civil War exhibit.