The 13th Amendment(1865) abolished slavery; the 14th Amendment (1868) defined citizenship; the 15th Amendment (1870) protected voting rights. These amendments were intended to eliminate the last remnants of slavery and to protect the citizenship of African Americans. A short period of initial freedoms quickly eroded into "second class" civil rights and, in some cases, new forms of slavery. By the late 19th century, Jim Crow laws created a system of segregation.
Photograph, Frederick Douglass, ca. 1879
Portraits National Archives, Frank W. Legg Photographic Collection of Portraits of Nineteenth-Century Notables Collection FL (National Archives Identifier 558770)
Born into slavery in Maryland, Frederick Douglass became an advocate for the equality of rights for all people.
Letter from Frederick Douglass to Secretary of State James G. Blaine, Accepting the Appointment as U.S. Minister to Haiti, June 25, 1889
Despatches from Consular Offices - Port au Prince, Despatches from U.S. Consular Officers National Archives, General Records of the Department of State, Record Group 59 (National Archives Identifier 302033)
Frederick Douglass was nominated for Vice President by the Equal Rights Party and appointed to several political positions, including minister resident and counsel general to Haiti.
Letter from George Jones to James G. Blaine Recommending Frederick Douglass as United States Minister to Haiti, July 2, 1889
Applications and Recommendations for Public Office
National Archives, General Records of the Department of State, Record Group 59 (National Archives Identifier 594982)
When Frederick Douglass was appointed as ambassador to Haiti, one writer considered this "ample testimony of the fairness of the administration toward the colored people of the entire county."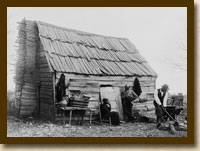 African American Family Outside Their Cabin in Virginia, ca. 1900
Courtesy of the Library of Congress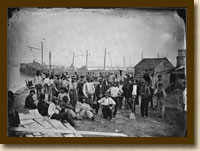 African American laborers at Alexandria, near Coal Wharf, ca. 1865
Mathew Brady Photographs of Civil War-Era Personalities and Scenes National Archives, Records of the Office of the Chief Signal Officer, Record Group 111 (National Archives Identifier 524820)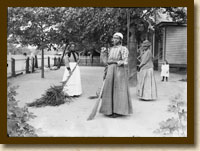 African-American Women with Brooms of Bambusa, September 29, 1899
Photographs Relating to Farm Management Investigations National Archives, Records of the Bureau of Agricultural Economics, Record Group 83 (National Archives Identifier 521043)