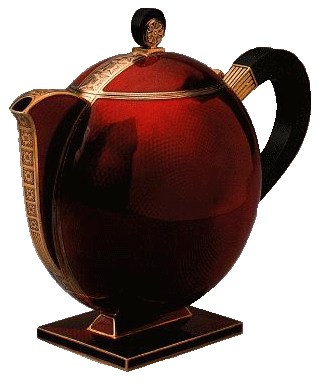 AN EXHIBITION PRESENTED BY THE
NATIONAL ARCHIVES AND RECORDS ADMINISTRATION
WASHINGTON, DC

As the highest representative of the people and government, the President accepts gifts on behalf of the United States of America. The phenomenon, as old as the Presidency itself, grows with each administration: Today a President may receive 15,000 gifts a year. They come from every state in the nation and every country in the world. Gifts from foreign leaders continue a rich diplomatic tradition of exchange between heads of state; those from citizens, both Americans and others, symbolize an inherently democratic exercise - ordinary people freely addressing, in every manner and form, the President of the United States.
Citations
"Teapot, Gift to President Franklin Roosevelt from Olav and Märtha, The Crown Prince and Princess of Norway, 1939, National Archives and Records Administration, Franklin D. Roosevelt Library."
"Carved Lamp, Gift to President and Mrs. Kennedy from Jawaharlal Nehru, Prime Minister of India, Ivory, Wood, 17 1/2 x 7 7/16 inches. (detail)."