Model of San Francisco, ca. 1920s
Gift of James Rolph, Governor of California
Wood, copper alloy, paint, 18 x 26 x 14 1/2 inches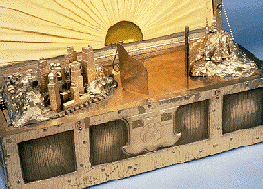 Although born in Iowa, President Hoover had many ties to northern California. He graduated from Stanford University, landed his first engineering job in San Francisco, and married his wife, Lou Henry, at her parents' home in Monterey. Governor Rolph sent this model of San Francisco to the President as an invitation to return to California for a 1932 Shriners' convention.
Pillow with fishing motif
Anonymous gift Needlepoint on wool, 13 x 13 1/2 x 6 inches
.
The donor of this gift knew that President Hoover loved to fish. On weekends he sometimes traveled to Virginia's Rapidan River to fish and to escape the pressures of the White House.