"President of the U.S.A., saxophonist Bill Clinton," by Bill Potts, Denver, Colorado, ca. 1993
Gift of Mr. Potts
Wood, 23 x 11 x 11 1/2 inches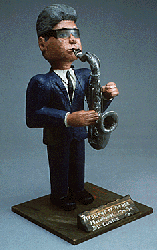 An amateur jazz saxophonist, President Clinton donned dark glasses to perform for a national television audience on the Arsenio Hall Show during the 1992 Presidential campaign and played at several of his inauguration parties. Americans responded warmly with many saxophone-related gifts.
Socks in the Oval Office, by Michele Weston Relkin, Thousand Oaks, California, ca. 1993
Gift to Chelsea Clinton from Ms. Relkin
Oil on canvas, 26 1/2 x 22 1/2 x 2 inches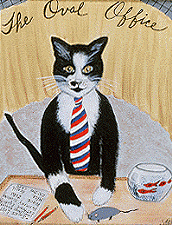 Americans love Presidential pets, and the Clinton family's pet cat, Socks, was no exception. Soon after his election, President-elect Clinton had to ask that a relentless media leave Socks alone to give both the First Cat and the First Family some privacy.