"Trail Blazin' for Tax Reform" Conestoga wagon model, by John Ashcroft, Governor of Missouri
Gift of Governor Ashcroft
Wood, canvas, metal, 13 1/2 x 26 x 9 inches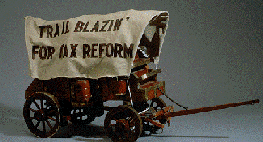 In 1986 the Reagan administration blazed a new trail in tax reform. It prevented Americans from using some tax shelters, forced corporations to take on more of the tax burden, and excused some of the most disadvantaged in society from paying income taxes. Tax brackets also changed so that wealthy Americans paid fewer taxes, with the intent that the benefits would "trickle down" to those with lower incomes.
"The Right to Keep and Bear Arms" pocketknife, by Mr. and Mrs. Clifton Polk, Fort Smith, Arkansas, ca. 1982
Gift of Mr. and Mrs. Polk
Engraved whalebone, silver, nickel, stainless steel, 1/2 x 3 1/2 x 1/4 inches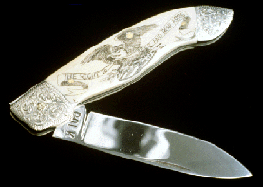 This gift, an artful protest against gun control, borrows its inscription from the second amendment to the Constitution. As President, Reagan opposed gun control, despite being critically wounded by a bullet in an assassination attempt.