Desert Storm chess set, by E. Howard Kellogg, Fuquay-Varina, North Carolina, ca. 1991
Gift of Mr. Kellogg
Wood, plastic, tile, 2 x 20 1/2 x 20 1/2 inches
In August 1990 Iraq invaded neighboring Kuwait to gain possession of its rich oil fields and access to the sea. In retaliation, the United States mounted Operation Desert Shield, condemning Iraq and gathering international support for economic embargoes. When Iraq's leader, Saddam Hussein, refused to budge, President Bush ordered the U.S. military into battle, launching Operation Desert Storm in January 1991. Victory came swiftly, and by the end of February, Iraqi troops were surrendering by the thousands. Polls showed that a stunning 89 percent of Americans approved of President Bush's actions.
With a nephew held hostage in Iraq during Desert Storm, Mr. Kellogg found comfort in making this battle in miniature. After Iraq's defeat–and his nephew's release–he sent it as a gift to the President.
Barbara Bush chair, by Phillip Grace, Washington, DC, ca. 1992
Gift to Barbara Bush from Mr. Grace
Painted wood, 52 1/2 x 26 x 25 inches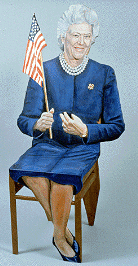 As First Lady, Barbara Bush championed causes such as literacy and aid to the homeless. Mr. Grace made this chair for her in appreciation of her good works for the country.