Cowboy boots, by Zeferino and Eli Rios, Mercedes, Texas, ca. 1953
Gift of the Rioses
Leather, 15 x 13 x 3 inches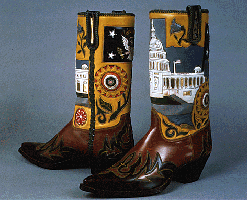 The Rioses customized these boots for President Eisenhower with both national and personal symbols. Their design includes the U.S. Capitol, the Great Seal of the United States, sunflowers from Eisenhower's home state of Kansas, and "Ike," the President's nickname.
. . . We have made these typical cowboy boots for you . . . Please accept them with our best wishes for your continued good health and complete success in your efforts to keep this country of ours the finest country in the world.

–Letter from Zeferino and Eli Rios, October 16, 1953
The Robe Flesher, by Charles M. Russell, modeled 1925, cast by Roman Bronze Works,
1926 or 1927
Gift of Nettie Claire Lewis, Los Angeles, California
Bronze, 5 1/4 x 5 x 3 inches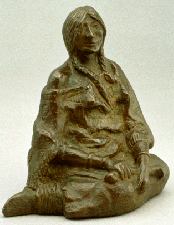 President Eisenhower found needed relaxation in stories and films about the Wild West. In the White House, he watched western movies and read western novels before going to bed. This penchant may have inspired Mrs. Lewis to give the President this sculpture by Charles Russell, one of America's premier western artists.
In his paintings and sculpture, Russell (1864-1926) captured the spirit of life in the West. He modeled cowboys at work, horses at full gallop, and the rituals and traditions of Native Americans. This sculpture shows a woman with a fleshing tool, which was used for preparing buffalo hides for tanning.