Silver Star Medal of James Barnett and Purple Heart Medal of Harry Brohen
Gifts of Mr. Barnett and Mr. Brohen
Bronze, silver, silk, Silver Star: 2 1/8 x 1 1/2 inches;
Purple Heart: 3 3/8 x 1 3/4 inches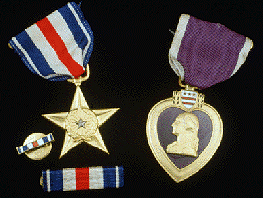 In September 1974 President Ford offered amnesty to Vietnam military deserters and "draft dodgers" who had fled the country. Ford hoped that the amnesty would finally heal the deep national divisions the war had caused. Many who had served in Vietnam, or who had lost loved ones there, were outraged. Hundreds of veterans sent President Ford medals earned in Vietnam and previous wars as gifts of protest.
President Gerald R. Ford, by Michael Manning, Yardley, Pennsylvania, 1976
Gift of Mr. Manning
Painted Pennsylvania river stone, 19 x 9 x 10 inches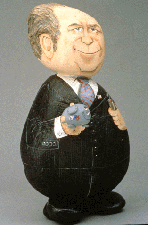 Weighing nearly 70 pounds, this caricature includes symbols and motifs particular to President Ford.