December Feature: President Reagan's Nomination of Sandra Day O'Connor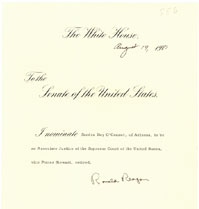 Sandra Day O'Connor was nominated to the Supreme Court by President Reagan on August 19, 1981. At the time of her nomination, the fifty-one year old O'Connor was a judge in the Arizona Court of Appeals and had a distinguished career to her credit. She had served as Arizona's Assistant Attorney General in the Arizona Senate, where she was the first female state Senate majority leader in the country, and as a judge of the Maricopa County Superior Court.
O'Connor's nomination illustrates how the Executive, Legislative and Judicial branches function together. As the document shows, President Reagan nominated her to replace retiring Justice Potter Stewart. The nomination then went to the Senate Judiciary Committee, which conducted hearings to evaluate her qualifications. While the Judiciary Committee was impressed with her knowledge and intelligence, O'Connor's nomination was also supported by prominent Senator Barry Goldwater of Arizona, and Supreme Court Justice William Rehnquist. After the hearings were completed, the full Senate voted to confirm O'Connor on September 21, 1981 by a vote of 99-0.
Research Congressional Records
While congressional publications can be found nationwide, the Center's combination of publications and unpublished committee records make our holdings unique. Visit our Research Portal to get started with your congressional research.
Educational Resources
Our educational resources are designed to assist teachers with using primary source materials to integrate Congress into history, government, and civics classes.