National Archives' New York on the Record Gallery
Press Release
June 2013

National Archives' New York on the Record Gallery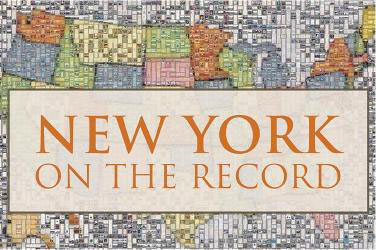 The National Archives at New York City's Welcome Center highlights original documents in its New York on the Record gallery. This exhibit is free and open to all visitors seeking a glimpse of original records that capture our national story. New York on the Record shows the connection between our records, our government and our history.
Through four themes, New York on the Record features letters, postcards, baseball cards, photographs, manifests and court documents from the holdings of the National Archives that have a connection to the history of New York.
In the Family Connection, the passenger arrival list featuring Annie Moore, the first person processed at Ellis Island is highlighted to show our records help millions of people uncover their family's past.
Defining Rights demonstrates a variety of rights have been asserted through Federal courts, including Martin Luther King Jr.'s intellectual property rights to his famous "I Have a Dream" speech.
In On the Record, the federal role in our commercial history is explored through official documents such as actor Edwin Booth's inventory for bankruptcy.
Finally, It's Here reveals the surprise gems one can uncover in our 12 billion pages of federal documents-including 1950s baseball cards for New York greats Gil Hodges, Duke Snider and Monte Irvin.
The National Archives at New York City is located on the 3rd floor of the Alexander Hamilton U.S. Custom House at One Bowling Green in Lower Manhattan. We are open Monday through Friday 10:00 am to 5:00 pm and the first Saturday of each month from 10:00 to 4:00 pm. New York on the Record is on display now through February 2014.
# # #
For press information, contact the National Archives Public Affairs staff at 202-357-5300.
Connect with Us on:
Website: www.archives.gov/nyc
Facebook: http://www.facebook.com/nationalarchivesnewyork
Twitter: http://twitter.com/USNatArchives
Prologue: Pieces of History Blog: http://blogs.archives.gov/prologue