The Record - March 1998
New Lincoln Discoveries at National Archives

Nearly 600 previously unknown Lincoln documents have been recently discovered in the massive Civil War Court Martial files of the Judge Advocate General's Office in the custody of the National Archives. The Lincoln autographs range from signatures and phrases to sentences and fifty-word paragraphs.
Approximately 80,000 courts martial of Union soldiers took place during the four years of the Civil War on charges ranging from stealing supplies to murder. These massive files of the Judge Advocate General's Office had never been systematically examined by researchers before last year, when author-researcher Thomas P. Lowry and his wife Beverly began the daunting task of reading every file. Besides uncovering material shedding light on many facets of Civil War military life, they have discovered, thus far, five hundred and seventy Lincoln items never before uncovered. The two researchers have not yet completed the exhaustive search.
Michael Musick, archivist and Civil War specialist at the National Archives, says of the discovery, "The American public, no doubt, will be astonished and fascinated that 570 writings in Lincoln's own hand could come to light at this very late date...for Lincoln scholars, the most important dimension is that, for the first time, a definitive, quantitative analysis of the 16th President's involvement in these court martial cases will be possible."
On April 14, 1865, President Abraham Lincoln took care of a number of administrative matters at the White House before going that evening to Ford's Theater. Among the documents he signed was a pardon for a man named Patrick Murphy, who had deserted the army and had been sentenced to be shot.

|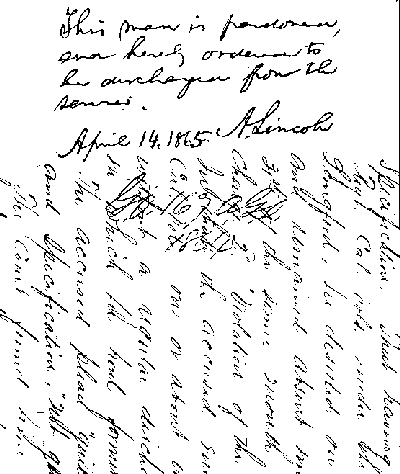 (National Archives, RG 153, Records of the Judge Advocate General's Office, File MM761)