The Record - May 1998
Volunteer Ventures

Patricia Eames, Editor

OSS Project: General Donovan's Files

On September 20, 1945, only weeks after V-J Day, President Truman announced that the Office of Strategic Services (OSS) would be terminated effective October 1. In the few days before the first American secret intelligence and special operations service went out of business, OSS director Major General William J. Donovan and his administrative assistant, Lieutenant Edwin J. Putzell, Jr., spent several nights at OSS headquarters microfilming Donovan's office files. So hastily did they work that their palm and finger prints appear on many of the frames.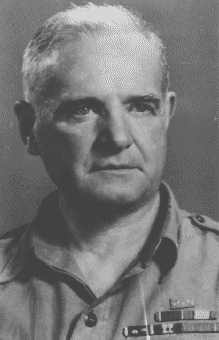 Major General William J. Donovan. (NARA #20166854)
The OSS had been established under the Joint Chiefs of Staff in June 1942, in succession to the short lived (1941-42) Office of the Coordinator of Information (OCOI), to conduct intelligence activities for the benefit of appropriate Federal agencies, as well as clandestine operations in support of military operations against the Axis powers. At the close of the Second World War, the OSS was abolished and its intelligence and counter-intelligence functions assumed, first by the Strategic Services Unit (SSU) of the War Department, then the independent Central Intelligence Group (CIG). OSS intelligence research and analysis functions devolved on a succession of offices under the Department of State.
The records of the wartime OSS Research and Analysis Branch were accessioned from the State department by the National Archives in 1946, at first only for official use; as of 1950, these were available only to American researchers cleared by the Department of State, who were obliged to submit their notes for clearance as well; as of 1974, they were available to all researchers, who could peruse the voluminous and invaluable geographic and subject card indexes, but copy only the document number, an awkward system which was only finally abolished in 1995.
In 1947, parallel with the establishment of the Department of Defense, CIG functions passed to the independent Central Intelligence Agency. The CIA continued until 1952 to exploit its inherited OSS records as current active files, in the process forever obscuring their wartime creation and exploitation and their final OSS arrangement.
The existence of the Donovan/Putzell microfilms did not become publicly known until 1980, when the widow of Otto Doering, one of Donovan's closest associates, turned them over in a number of Bloomingdale shopping bags to Donovan's biographer, Anthony Cave Brown.
Starting in 1980, the CIA began to release to the National Archives the original, hard-copy version of most of the records the CIA had inherited from the OSS. Some of Donovan's Washington Office files were among the first OSS records the CIA released. As author Brown and other researchers have found, the files represent a trove of contemporaneous inside information on many of the critical events and personalities of World War II. Comprised of approximately 120 cubic feet of material, the records of General Donovan's office are among the most heavily referenced of World War II records.
In 1985, under the direction of NARA staff member Lawrence McDonald, a small group of volunteers began the formidable task of making the records of the OSS more accessible to an ever growing number of researchers.The 7,000 cubic feet of OSS records reveal information never before available, and give us a kind of microcosm of World War II—providing a wealth of detail on almost every theater of the war in the form of intelligence reports and records on all aspects of OSS operations in combat and behind enemy lines.
The CIA had developed elaborate finding aids for the OSS archives, including accession lists and various indexes. Security requirements, however, made it necessary for the CIA to withhold all of their finding aids. Without them, most of the OSS records were inaccessible to research. Over the course of years, moreover, the CIA had significantly altered the original arrangement of their OSS records, making control difficult at best.
When Charles Otstot started working as a volunteer at NARA in the summer of 1985, only a fragment of the OSS files were actually accessible to the researchers. Although the CIA had already transferred some records to NARA, practically no lists or finding aids for these were available for the archivist or the researchers.
Mr. Otstot began by writing descriptive lists, folder by folder, for specific OSS entries. Soon other able volunteers joined in the work. Helen Brewster (once a member of the OSS), Bernard Geehan, Bill Hassler, and Tom Wyatt wrote excellent descriptive lists for the records. Ed Kelley set up a small biographical file on select OSS veterans. Clementine Scharf performed holdings maintenance work and applied precise labels to the OSS folders. Frank Drew prepared the files of the OSS London War Diaries for microfilming. Dani Lail, who at age 78 was no longer able to come in to the National Archives, typed the lists at home.
For the next 13 years, 53 volunteers invested an enormous amount of time and energy compiling descriptive box and folder lists, creating and applying box and folder labels; preparing records for microfilming, verifying page arrangement of microfilm, and collecting information for indexing microfilm.
Mr. Otstot's greatest contribution was his inputting of the information provided in the box and folder lists into the OSS database, which now consists of over 100,000 documents. Inputting of the OSS database by Mr. Otstot has restored, intellectually, the series arrangement of the records. The database also sorts the records according to 12 fields: point of origin, branch, file type, series, code name, personal name, associated location and area, subject, entry, CIA job number, security classification, and shelf location.
In addition to the OSS database, a team of volunteers, working with volunteer Sidney Shapiro, created a database for M1642, the microfilm publication of the OSS Washington Director's Office Files. Volunteer Chris Prouty made an outstanding contribution to this project. From the database the team completed an index which can be searched both electronically and in printout form. M1642 consists of 136 microfilm rolls with 175,000 images. Search fields include subject, date of document, originator of correspondence, addressee, and other criteria. Thanks to the OSS data-base, it is now possible to identify practically every significant name and fact in M1642 down to the roll and frame number.
We are truly proud of the work done by our volunteers. They have given freely and generously of their time so that others may research these highly important records and may learn of America's first national intelligence agency and its special operations in World War II. We want to honor them all for their unselfish service.
As might be expected of a file of this character, M1642 is replete with administrative trivia and gossip, as well as information of real historical value. A small sampling of M1642's revelations:
A 1942 letter from J. Edgar Hoover to Donovan forwards a letter from Mrs. Vladimer Horowitz, Arturo Toscanini's daughter, that advises Hoover that composer Richard Wagner's daughter, then living in London, might be a German spy.

Donovan was tireless in reporting events to Franklin Roosevelt. About 1200 of his memoranda are noted in the finding aid. On some days, he would send as many as ten memos to the White House. The number of memos from Roosevelt to Donovan is much smaller (about a dozen). According to Lieutenant Putzell, who lives in Florida, Donovan got his marching orders from the President verbally.

Many records document Donovan's and other senior officials' views on the need for and the shape of the nations' post-war intelligence system. Donovan would have been pleased to have been given the authority to build that organization. But his proposal was leaked to unfriendly journalists (among them Drew Pearson and Walter Trohan), who characterized it as advocating an American Gestapo. In the end, Donovan's views did not prevail. Rather, as author Brown has described it, Donovan's last act at the OSS was his surreptitious copying of his own files.