The Record - September 1998
First Lady Announces $1 Million Award to Five Founding Fathers Projects

First Lady Hillary Rodham Clinton has announced that a grant of $1 million has been contributed by television producer Norman Lear for the editing and publishing of five founding fathers projects The Papers of Thomas Jefferson, the Adams Family Papers, the Papers of James Madison, the Papers of George Washington, and the Papers of Benjamin Franklin.
On July 9, 1998, with the south portico of the White House as a backdrop, Mrs. Clinton unveiled a new logo for the White House Millennium Council. The following day, she launched a tour of several historic locations in behalf of its program called "Save America's Treasures." Standing in front of Madison's home Montpelier, she said that the gift from Mr. Lear and his family "will help ensure that the ideas and ideals which built our nation survive forever."
These five projects receive major Federal support from the National Historical Publications and Records Commission (NHPRC) and the National Endowment for the Humanities (NEH). Mrs. Clinton said that the NEH, in administering the grant, "will work along with the National Archives to collect and safeguard the writings of those Americans from whom we continue to look for inspiration."
Mr. Lear has produced some of the most critically acclaimed serials in the history of television, including "All in the Family"and "The Jeffersons." The Television Hall of Fame honored him as one of its very first inductees. Mr. Lear has also been a staunch advocate for First Amendment rights; he was founder of People for the American Way.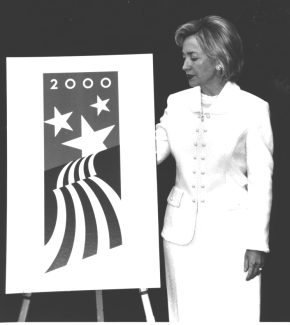 In offering the award to these five Founding Fathers projects, Mr. Lear recalled the powerful patriotic influence of his grandfather, a Russian immigrant, on his own life and said that we must continue to build on the gifts of our forebears: "A nation, after all, exists mostly as a shared figment of our collective imagination, a constellation of cultural and political ideals. A people can only become and remain a people if they can nurture shared commitments and common memories, commitments not only with each other but with the generations that preceded them and those that will follow. That's what these papers were all about."
Mrs. Clinton said, "It is only by understanding where we came from—looking squarely at our past, appreciating the sacrifices and difficulties others endured for us to be enjoying what we enjoy today—that we can hold dearly those ideals and values that should be cherished, and pass them on to our own children and grandchildren."