Document Requests for Members of Congress
Documents for Members of Congress
(All documents available are in PDF format.

)
These PDF files are being provided as a convenience to expedite your records request. We make no claim as to their compliance with Section 508 accessibility guidelines. They have not been formatted for posting to a web site or for further distribution via electronic means, and we recommend that they not be used for that purpose. Should these files prove unusable to you, please contact us.
Legislative Resources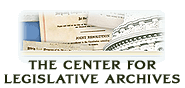 The Center for Legislative Archives preserves and makes available for researchers the historical records of the U.S. Senate and House of Representatives.
Public Affairs Office

Press Releases
Archives of Press Releases
Press Kits
The Electoral College

The Office of the Federal Register coordinates the functions of the Electoral College on behalf of the Archivist of the United States, the States, the Congress, and the American People.
110th Congress
First Session, beginning January 2007