The Freedmen's Bureau
As the Civil War neared its end, Congress established the Bureau of Refugees, Freedmen, and Abandoned Lands — better known as the Freedmen's Bureau — inside the War Department.
The Freedmen's Bureau provided assistance to tens of thousands of formerly enslaved people and impoverished whites in the Southern States and the District of Columbia in the years following the war. It helped freedpeople establish schools, purchase land, locate family members, and legalize marriages. The Bureau also supplied necessities such as food and clothing, operated hospitals and temporary camps, and witnessed labor contracts between freedmen and plantation owners or other employers.
Funding limitations and deeply held racist attitudes forced the Bureau to close in 1872. African Americans were largely abandoned to contend on their own with persistent racial attitudes and discrimination. Many continued to work for their former masters as sharecroppers or tenant farmers in a vicious cycle of debt peonage.
Related Primary Sources
Links go to DocsTeach, the online tool for teaching with documents from the National Archives.
Teaching Activity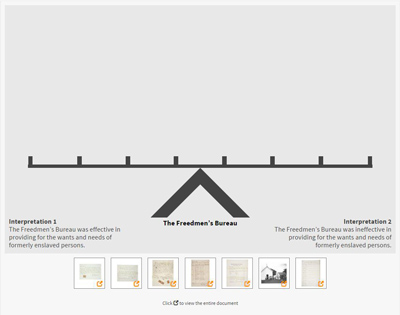 Materials created by the National Archives and Records Administration are in the public domain.