Education Programs
Presidential Libraries provide a broad range of educational opportunities for students of all ages. Each Presidential Library offers programs designed to introduce students to American history and the Presidency and to inform teachers about the use of primary source documents in teaching history.
---
Highlights of Presidential Library education activities include: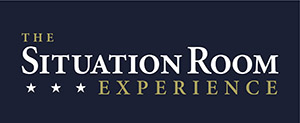 The Situation Room Experience is a high stakes, modern, fictional, foreign policy simulation that challenges participants to deal with an international crisis at the Ronald Reagan and George W. Bush Presidential Libraries. Designed for high school and university students, the Situation Room Experience places students in the roles of the White House Crisis Management Team or members of the media as the story unfolds in real time. Cutting edge technology helps drive the experience that takes place in the actual Situation Room from the White House.

The Advise the President Series is a ready-to-use tool that provides teachers with an opportunity to bring historic Presidential decisions into the classroom. Using a deliberation process, students will learn about history by focusing on pivotal issues faced by past Presidents.

A first-person view of the modern presidency from the men who held the office and those who served around them. In 2007, C-SPAN presented Presidential Libraries: History Uncovered - the product of an unprecedented, year-long search in cooperation with the National Archives for rare and unseen recordings from 12 of the nation's presidential libraries.

Students take on the roles of President Truman and his advisors facing real-life historical decisions during the White House Decision Center at the Truman Presidential Library and Museum.

Five Star Leaders at the Eisenhower Presidential Library and Museum challenges students in grades 8-12 to work together to solve a problem, confront a crisis, or accomplish a mission.

The Cabinet Room at the Ford Presidential Library and Museum is an interactive media experience allowing students and adults to use the West Wing's famous conference room and original documents to role-play through many of the complex problems that faced the Ford Administration.

Pretend You Are the President is one of many educational programs available at the Roosevelt Presidential Library and Museum. Working with documents and artifacts, students learn about the Presidency, and what a demanding job it can be, as they role-play some of the many tasks the Chief Executive is called upon to perform.