Distance Learning Programs
Visit the National Archives without leaving your school or home! We offer free distance learning opportunities for students and educators.
Online Student Programs on the Presidency

The National Archives and Presidential Libraries, National Park Service, Internet2 community, and cultural and historic organizations nationwide are proud to offer the annual Presidential Primary Sources Project from January through March 2021. This series of free, standards-aligned, 45-minute interactive videoconferencing programs is aimed at students in grades 4-12.
See the full schedule of programs and register!
The following programs will be offered by the National Archives and Presidential Libraries:
January 19: The Constitution and Presidential Powers, The National Archives
February 2: Planning for the Future–President Carter and the Energy Crisis, Carter Presidential Library
February 9: The Great Communicator, Reagan Presidential Library
February 11: Women of Kansas: Beyond Dorothy, Eisenhower Foundation
February 16: Black Americans and the Great Depression, Herbert Hoover Presidential Library and FDR Library
March 2: Nothing to Fear But Fear It's Self–Roosevelt's First Inaugural, Roosevelt Presidential Library and Museum
March 16: President Clinton's Public Diplomacy in Northern Ireland, Clinton Presidential Library
March 25: Truman's First 100 days, Truman Presidential Library and Museum
You can also access recordings of past programs from the Presidential Primary Sources Project on YouTube.
K–12 Distance Learning Programs by Request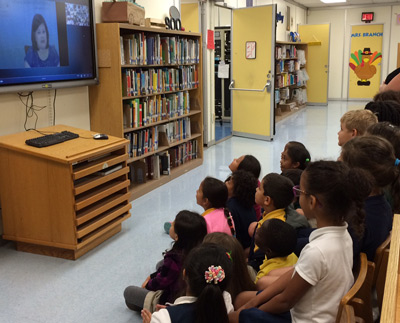 Our standards-based, interactive programs feature historical documents, photographs, maps, posters, and other primary sources.
National History Day Google Hangouts and Webinars
National History Day Students, Teachers and Parents – Join us for NHD workshops to learn about:
resources for projects and primary source research from the National Archives and our partner organizations,
the theme and categories,
using primary and secondary sources effectively, and
teaching tools for NHD.
We also offer help and training in person at our DC, regional, and Presidential Library locations. Explore all of our resources on our National History Day pages, DocsTeach.org, and our Education Updates blog.