Professional Development Webinars
Visit the National Archives without leaving your school or home! Our interactive webinars for educators feature historical documents, images, maps, posters, and other primary sources — as well as resources and strategies for bringing primary sources into your classroom. All webinars are free of charge.
Advance registration required. Questions? Please contact us at distancelearning@nara.gov.
Live captioning is available by request. Please include a request for live captioning services in your registration for the event and submit your registration at least two weeks in advance of the webinar.
By Request
DocsTeach Webinars By Request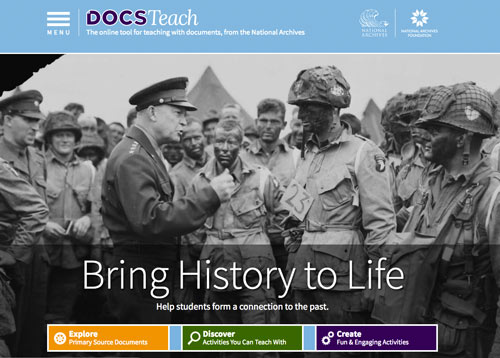 Register and select your preferred dates
Connect your school or district with the National Archives for a custom webinar exploring DocsTeach, the online tool for teaching with documents from the National Archives.
Minimum of 10 participants
Maximum of 99 individual connections per webinar
Available by request Monday-Friday, 8:00 AM-6:00 PM ET
Program duration is flexible — we recommend 20-60 minutes, depending on the preferred content
Please submit requests at least one month in advance of desired date
All requests subject to availability
Prior to the webinar, a National Archives educator will work with you in advance to determine what the webinar will cover. Topics may include:
An introduction to DocsTeach
Finding primary sources for the classroom
Creating DocsTeach activities
And more depending on your preferences!
Questions? Contact DistanceLearning@nara.gov
Upcoming Webinars
Teaching the Progressive Era with the Records of Congress
Thursday, April 23, 2020, 7 p.m. ET
Join the Center for Legislative Archives for a webinar featuring resources for teaching the Progressive Era with the records of Congress. Discover primary sources, classroom lesson plans, and DocsTeach activities for teaching Progressive Era issues. Consider the role and responsibilities of Congress in the Progressive Era while exploring techniques for analyzing photographs, charts, and maps. This webinar is suitable for high school educators.
---
Teaching the Big Picture: Incorporating Photographs into Lesson Plans about Native Communities
Wednesday, May 6, 2020, 7 p.m. ET
Join us and discover how to incorporate photographs from the National Archives into your lessons about American Indian communities. We will explore how to locate photographs in our holdings, the process of analyzing and interpreting primary source documents, and ways to contextualize the history depicted in the images.
This webinar is part of our Native American professional development series. Each program features new resources for locating and using Federal records related to American Indians and Alaska Natives.
---
View previously recorded webinars and National History Day Workshops featuring primary sources and teaching strategies.
Recently added:
Learn about resources for projects and primary source research from the National Archives and our partner organizations, the theme and categories, using primary and secondary sources effectively, and teaching tools for NHD.
---
Request a program today!
Register online using the registration link for the particular program you are interested in above. If you prefer, fill out and return our PDF form to distancelearning@nara.gov.