Professional Development Webinars
Visit the National Archives without leaving your school or home! Our interactive webinars for educators feature historical documents, images, maps, posters, and other primary sources — as well as resources and strategies for bringing primary sources into your classroom. All webinars are free of charge.
Advance registration required. Questions? Please contact us at distancelearning@nara.gov.
Live captioning is available by request. Please include a request for live captioning services in your registration for the event and submit your registration at least two weeks in advance of the webinar.
DocsTeach Webinars
Getting Started with DocsTeach Mini-Webinars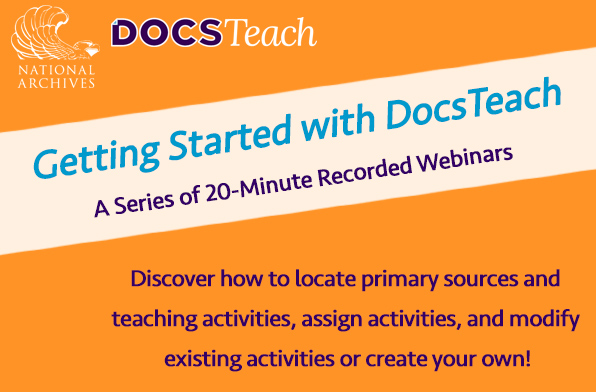 Join us on Wednesdays at 2 pm ET for a new DocsTeach mini-webinar series! Each 20-minute session will highlight a different aspect of DocsTeach.org and show how you can use DocsTeach to help your students make sense of the stories, events, and ideas of the past by working with primary sources. This series is open to teachers and parents of students of all grade levels. Sign up for the whole series or individual sessions today!
April 15: Finding and Sharing Activities

DocsTeach hosts an ever-expanding collection of document-based activities created by the National Archives and teachers around the world. During this session, you will discover how to find teaching activities and share them with students. This recording is available on YouTube.

April 22: Finding and Sharing Primary Source Documents

DocsTeach provides access to thousands of primary sources – letters, photographs, speeches, posters, maps, videos, and other document types – that span the course of American history. During this session, you will learn how to find primary sources and utilize National Archives' resources for primary source analysis. This recording is available on YouTube.

April 29: Assigning and Viewing Student Work

DocsTeach activities can be assigned to students to complete online. This session will demonstrate how to assign and access student work via your DocsTeach account, and how to receive students' work on DocsTeach via other learning management systems. This recording is available on YouTube.

May 6: Choosing an Activity

DocsTeach offers 12 different activity tools that help students develop historical analysis skills. This session will provide an overview of the different tools and help you decide which activity to use. This recording is available on YouTube.

May 20: Modifying Existing Activities

On DocsTeach you can borrow from an ever-expanding collection of document-based activities built by the National Archives education staff and teachers around the world. In this session you'll discover how to modify an activity you find on DocsTeach to better suit your needs. This recording is available on YouTube.

May 27: Creating Your Own Activity

Create your own online activity on DocsTeach to share with your students! This session will walk you through the process of adding primary sources, setting up your activity, writing instructions for your students, and publishing your activity.
Advanced registration is required. Each session will be recorded and made available at a later date.

DocsTeach Webinars By Request
Register and select your preferred dates
Connect your school or district with the National Archives for a custom webinar exploring DocsTeach, the online tool for teaching with documents from the National Archives.
Minimum of 10 participants
Maximum of 99 individual connections per webinar
Available by request Monday-Friday, 8:00 AM-6:00 PM ET
Program duration is flexible — we recommend 20-60 minutes, depending on the preferred content
Please submit requests at least one month in advance of desired date
All requests subject to availability
Prior to the webinar, a National Archives educator will work with you in advance to determine what the webinar will cover. Topics may include:
An introduction to DocsTeach
Finding primary sources for the classroom
Creating DocsTeach activities
And more depending on your preferences!
Questions? Contact DistanceLearning@nara.gov
View previously recorded webinars and National History Day Workshops featuring primary sources and teaching strategies.
Recently added:
Learn about resources for projects and primary source research from the National Archives and our partner organizations, the theme and categories, using primary and secondary sources effectively, and teaching tools for NHD.
---
Request a program today!
Register online using the registration link for the particular program you are interested in above. If you prefer, fill out and return our PDF form to distancelearning@nara.gov.