Teaching With Documents
When we ask students to work with and learn from primary sources, we transform them into historians. Rather than passively receiving information from a teacher or textbook, students engage in the activities of historians — making sense of the stories, events and ideas of the past through document analysis.
Document analysis is the first step in working with primary sources. Teach your students to think through primary source documents for contextual understanding and to extract information to make informed judgments.
Learn more and access our analysis worksheets for photographs, written documents, artifacts, posters, maps, cartoons, videos, and sound recordings. Find worksheets for both intermediate or secondary students, and for novice or younger students, or those learning English.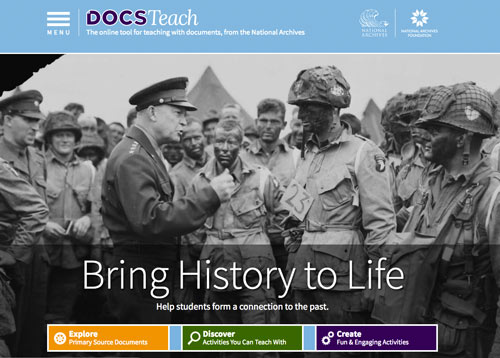 Explore our online tool for teaching with documents from the National Archives. On DocsTeach you can access thousands of primary sources — letters, photographs, speeches, posters, maps, videos, and more — spanning the course of American history. And we're always adding more!
You can borrow from an ever-expanding collection of document-based activities created by the National Archives, and teachers around the world. Copy and modify activities for your students. And create your own activities using the online tools. It's as simple as: (1) selecting a tool, (2) choosing your primary sources, and (3) customizing instructions.