Elementary School Distance Learning Programs
Visit the National Archives without leaving your classroom! Our free, interactive programs feature primary sources from our holdings. Each program aligns with National Social Studies Standards and Common Core State Standards. We also provide teacher guides with pre- and post-program lessons.
Scheduling Details
Available Tuesdays-Thursdays
Must be scheduled at least two weeks in advance
For groups of 10 or more students
Multiple sites can connect at the same time
We can deliver up to five programs per school per day. For schools with over five classes, we recommend connecting two to three classes at the same time or scheduling programs over multiple days.
Technology Requirements
You can connect your class via traditional videoconferencing equipment or online via a computer with a webcam, microphone, and speakers.
The Charters of Freedom: Building a More Perfect Union
Guiding Question:
What is the purpose of each of the founding documents and why are they important?
During this program, students will learn the purpose of each of the founding documents – the Declaration of Independence, Constitution, and Bill of Rights – and why each is important. In groups, students will complete a graphic organizer and use the information to answer questions by incorporating kinesthetic learning.
For grades 3–5
45–60 minutes
No required pre-program lesson
---
The Constitution at Work: Elementary Edition
Guiding Question:
How is the U.S. Constitution relevant to the daily lives of American citizens?
What does the board game "Monopoly" have to do with the U.S. Constitution? How about the letter you wrote to the president when you were in elementary school? The answer to both questions is: plenty—if you know your Constitution! This program provides a unique opportunity to learn, via analysis of primary source documents, about the content, impact, and perpetual relevance of the U.S. Constitution to the daily lives of American citizens.
For grades 4-5
45-60 minutes
---
Superhero Bill of Rights!
Guiding Question:
What are rights and what would the world look like without them?
Students will learn about the importance of rights and ponder what the world would look like without them. Focusing on the First Amendment, Superhero Bill of Rights saves the day by providing rights for citizens. Students will analyze primary sources to identify the appropriate freedom(s) of the five freedoms represented.
For grades 3-5
45 minutes
---
Scheduled Programs
The 2020 Presidential Primary Sources Project Program Series
January – March 2020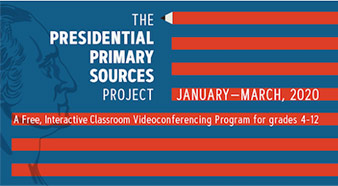 The National Archives and our Presidential Libraries will offer programs as part of this annual series, alongside educators from the National Park Service, the Internet2 community, and cultural and historic organizations nationwide. These free, standards-aligned, 45-minute interactive videoconferencing programs are aimed at students in grades 4-12. In addition to the interactive video component, each program will also be live-streamed and recorded for on-demand viewing for free.
Find the 2020 schedule and register for sessions on the Internet2 website.
Herbert Hoover and the Bonus March: Presidential Blunder or Necessary Action?, February 27, 11 a.m. and 2.p.m. ET
Records of an Era: The Roosevelts 1933-1945, March 5, 11 a.m. and 2 p.m. ET
Truman and the 1948 Election, March 24, 11 a.m. and 2 p.m. ET
---
Questions?
If you have questions about any of our programs, please contact us at distancelearning@nara.gov.
---
Register online. If you prefer, fill out and return our PDF form to distancelearning@nara.gov.