Elementary School Distance Learning Programs
Videoconference programs are available Tuesday–Thursday and must be scheduled at least two weeks in advance. We can accommodate up to three programs a day, over two days, per school. Due to demand, we cannot accommodate individual program requests for more than three sessions. However, we can connect with multiple classes during each program session and will work with you to develop an optimal program schedule.
Programs align with national social studies standards and Common Core State Standards. Teacher guides include pre- and post-program lessons.
For more information or to schedule your free program, email us at distancelearning@nara.gov.
Our Classroom Bill of Rights! for Lower Elementary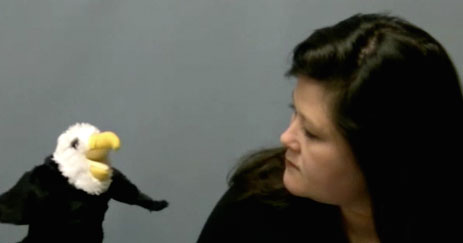 Guiding Question:
What are rights and why are they important?
Students will be introduced to the concept of rights, discuss why rights are important, and learn about the Bill of Rights with the help of Sammy the American Bald Eagle puppet. As a class, students will create their own classroom Bill of Rights.
For grades K-2
30–45 minutes
Superhero Bill of Rights! for Upper Elementary
Guiding Question:
What are rights and what would the world look like without them?
Students will learn about the importance of rights and ponder what the world would look like without them. Focusing on the First Amendment, Superhero Bill of Rights saves the day by providing rights for citizens. Students will create their own Superhero Bill of Rights comic strip.
For grades 3-5
45 minutes