The Many Faces of Paul Robeson
Background
How many people do you know who are athletes? How about an athlete who has won 15 varsity letters in four different sports? An athlete who has also played professional football while at the same time being valedictorian at his university? Does this athlete also hold a law degree? How many scholar-athlete performers can you name? Concert artists who have sold out shows around the world and who can perform in more than 25 different languages? Does this scholar-athlete-performer also act in Shakespearean and Broadway plays and in movies? Can you identify a scholar-athlete-performer who is also an activist for civil and human rights? Someone who petitioned the president of the United States of America for an anti-lynching law, promoted African self-rule, helped victims of the Spanish civil war, fought for India's independence, and championed equality for all human beings? Did this scholar-athlete-performer-activist also have to endure terrorism, banned performances, racism, and discrimination throughout his career?
Paul Robeson was all these things and more. He was the son of a former slave, born and raised during a period of segregation, lynching, and open racism. He earned a four-year scholarship to Rutgers University, making him the third African American to attend the school. There he was a member of the prestigious Cap and Skull Honor Society, played four varsity sports (baseball, football, basketball, and track), won speech and debate tournaments, and managed to graduate valedictorian of his class. After graduation, Robeson applied his athletic abilities to a short career in professional football. Aside from his prowess on the gridiron, he earned a law degree and changed the direction of his career. His legal career was cut short, however, after a secretary refused to take dictation from him solely because of the color of his skin. He left law and turned to his childhood love of acting and singing. Robeson starred in Shakespeare's Othello, the musical Showboat, and films such as Jericho and Proud Valley. He was one of the top performers of his time, earning more money than many white entertainers. His concert career spanned the globe: Vienna, Prague, Budapest, Berlin, Paris, Amsterdam, London, Moscow, New York, and Nairobi.
Robeson's travels opened his awareness to the universality of human suffering and oppression. He began to use his rich bass voice to speak out for independence, freedom, and equality for all people. He believed that artists should use their talents and exposure to aid causes around the world. "The artist must elect to fight for freedom or slavery. I have made my choice," he said. This philosophy drove Robeson to Spain during the civil war, to Africa to promote self-determination, to India to aid in the independence movement, to London to fight for labor rights, and to the Soviet Union to promote anti-fascism. It was in the Soviet Union where he felt that people were treated equally. He could eat in any restaurant and walk through the front doors of hotels, but in his own country he faced discrimination and racism everywhere he went.
While Robeson's activist role increased abroad, he met dissent and intimidation in the United States. Rioters at his concert at Peekskill, New York in 1949 smashed the stage, torched chairs, attacked concertgoers, and threatened Robeson's life. His outspokenness about human rights and his pro-Soviet stance made Robeson a prime target of militant anticommunists. In 1950 the State Department revoked his passport, thereby denying his right to travel and, ultimately, to earn income abroad. Robeson fought this injustice for years vigorously but with no success. He repeatedly applied for reinstatement of his passport but was turned down. He filed a lawsuit against the State Department and faced discouraging delays, adverse decisions, and rejected appeals. Yet Robeson stuck to his principles and refused to swear an affidavit that he was not a Communist. "Whether I am or not a Communist is irrelevant," he told the House Un-American Activities Committee in 1956. "The question is whether American citizens, regardless of their political beliefs or sympathies, may enjoy their constitutional rights." In 1958 the U.S. Supreme Court finally agreed, ruling that the State Department could not deny citizens the right to travel because of their political beliefs or affiliations.
To celebrate, Robeson gave his first New York concert in a decade at a sold-out Carnegie Hall. But the years of struggle had taken a personal and professional toll. Negative public response and the ban on his travel led to the demise of his career. Before the 1950s, Robeson was one of the world's most famous entertainers and beloved American heroes--once being named "Man of the Year" by the National Association for the Advancement of Colored People. Despite all his accomplishments, Paul Robeson remains virtually ignored in American textbooks and history. The activities here are designed to introduce students to Paul Robeson and his many accomplishments and to address the issue of individual freedom versus national security.
Resources
Books
Foner, Philip S. Paul Robeson Speaks-Writings, Speeches, Interviews 1918-1947. New York: Brunner-Mazel Publishers, 1978.
Robeson, Paul. Here I Stand. Boston: Beacon Press, 1971.
Compact Discs
Paul Robeson: Songs of Free Men. Sony Classical, Masterworks Heritage.
Paul Robeson: Ballad for Americans. Welk Music Group, 1299 Ocean Avenue, Santa Monica, CA 90401.
Videos
"American Masters Special--Paul Robeson: Here I Stand." Thirteen --WNET Productions.
"The Proud Valley." 1940, Janus Films.
Web Sites
"Electronic New Jersey Site: Paul Robeson." (1996) http://www.scc.rutgers.edu/njh/PaulRobeson/ 11 March 1999.
"Paul Robeson Virtual Exhibit at Rutgers University --New Brunswick." http://prcc-web.rutgers.edu/biography/index.html 11 March 1999.
Individuals
Dr. William R. Fernekes, Supervisor of Social Studies at Hunterdon Central Regional High School, Flemington, NJ
The Documents
Painting of Paul Robeson by Artist Betsy G. Reyneau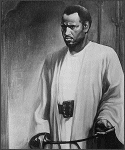 Click to Enlarge
National Archives and Records Administration
Harmon Foundation Collection
Still Picture Records
Record Group 200
National Archives Gift Collection
National Archives Identifier: 559205
Photograph of Paul Robeson Leading Moore Shipyard Workers in Singing the Star Spangled Banner
Oakland, CA
September 1942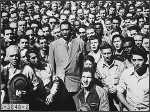 Click to Enlarge
National Archives and Records Administration
Still Picture Branch
Record Group 208
National Archives Identifier: 535874

Editorial Drawing of Paul Robeson by artist, Charles H. Alston
1943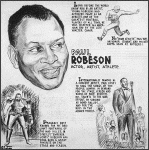 Click to Enlarge
National Archives and Records Administration
Still Picture Branch
Record Group 208
National Archives Identifier: 535624